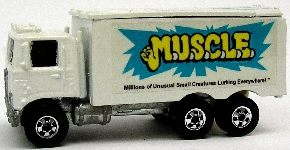 Normally I try to pull something from five years ago. Last week I had to pull from six years ago. Seven years ago there wasn't a website. Well, there was this hunk of shit but I can't stand to look at it.
Tripod? Fuck me. That's embarrassing.
Instead I'd like to take a look back at something that has been on my mind; the HiWay Hauler.
[instagram url=https://instagram.com/p/7-gp5kxhlW/ hidecaption=true width=320]
I've been thinking about it because people have been brought to the website through PEZ searches. Crazy – right?
Once I started thinking about the PEZ Hauler I wondered if anything has happened with the handful of real Haulers. Not enough to spur me into action, but I did wonder.
Wrapping up my stream-of-consciousness sharing, I also wondered why I haven't finished some of the other custom trucks I've purchased over the years. I have one or two old Haulers plus some newer trucks I've picked up over the years. I need to finish those projects or just give the trucks to the boys.
Then I saw my old friend Nate's picture and realized. Forget the boys. I need to find some fast Hot Wheels. I'm tired of losing races to their cars.
Ok, enjoy your weekend. (Or, at least, enjoy your poop.)
And then I realized I did this about 365 days ago.
Oops.