[instagram url=https://www.instagram.com/p/BfuKJi-l-lV/ hidecaption=true width=320]
I know I already posted this on Instagram, but it was so much fun. My little guy was so focused on launching his car and having it come back.
I was posted as the launcher, because it took less skill (he's a smart kid). He had to keep fixing the track and getting the motors spaced correctly. The dog, strangely recently, has discovered he hates Hot Wheels. He attacks the ones he can catch on the track. This has proven funny and frustrating for my little guy.
He was also very excited that people liked and commented on his track. We'll see if this fuels him to create more tracks for posting.
Probably not. Our baseball practice got cancelled so we had a night that wasn't running around and rushing to bed.
I stand corrected. I try to write the Epilogue in little parts all week. I wrote the above much earlier in the week. Last night my little guy asked to buy some more track this weekend. He has a gift card burning a hole in his pocket. I think the Likes and Views fueled him. He already started a new track, but said he needs more. Story developing…
Last week's jerky situation has been resolved. They sent more jerky to apologize. I have to give them credit for being very cool and gracious, but I'm over it.
I don't have an intense hunger for jerky these days. I need a little time off.
Let's shift of focus to M.U.S.C.L.E. stuff on eBay.
– What the shit?!?! Kinnikuman experts I need your expertise.
– Need a little more help.
– I have nightmare where I pass on this lot and there is a new Non-Poster figure.
– "PROTOTYPE" What? It would be a serious creative writing challenge to offer a story that supports and rationalizes that claim.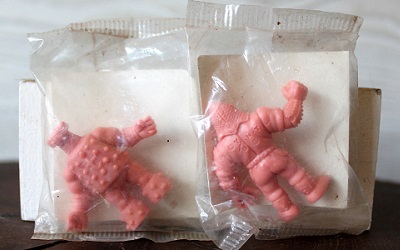 Well, hello.
I'm skipping over my Quik excitement. Cool figures. Cool prices. We get it. I was instantly furious when I saw "#186."
"That's not a #186 figure – it's a #201," my brain screamed. Then I went to the Quik archive to see if I needed the pictures for the site. Again, my brain screamed.
I had the #201 figure marked as #186. I don't know why.
I think it is my fault the seller incorrectly identified the picture. Sorry everybody that cares.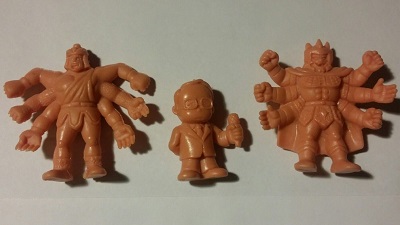 "I paid over $25 for all 3."
I had to save this listing for posterity. Forget the seller's use of "rare." We talked about that last week.
I love that he is using his own stupidity to, hopefully, help him sell the figures.
I feel like I'm watching a version of Jack finding out his beans don't grow a magical stalk. Now Jack is trying to resell them to an even more stupid poor farm boy.
– I thought these were bootlegs at first. They're just Sharpie'd.
– $13.99 – guess the lot.
– As of writing, there are no bids. Make sense or shocking?
– Here's you AOTW. He must be friends with this seller.
Do you guys know how I normally stop writing the Epilogue? I look through eBay until it has made me too sad. Once I've seen too many outrageously priced, single-figure listings I have to stop. It doesn't make me jump-off-a-building sad. It makes me what-has-happened sad.
It's not this-parking-lot-used-to-be-a-playground-fuck-you-urban-sprawl sad either. It's not even what-happened-to-my-hobby sad. It's more like…that-branch-I-used-to-start-climbing-the-tree-is-gone sad.
Welcome to your weekly installment of "Damn the torpedoes!"
Is it desperation or a realization that is starting to, finally, show with Racer #2 adding the option to make an offer? Maybe both? They certainly don't have to be mutually exclusive. Has Racer #1 always had the option to make an offer? I can't remember.
These listings have been going on for quite some time. One of them has been going on 932 days. I was going to say, "Man, this is textbook crazy." I was even going to talk about the Goldwater Rule (it would have been a bit of a stretch).
Then I was hit with the thought, "Isn't this website crazy?"
No. It's stupid, but not crazy. I keep doing the same thing day after day; week after week; and year after year. I don't expect anything different to happen. I have fun writing and maybe some people will read it. Nothing else.
It actually makes me feel sad to think people would do, basically, the same thing over and over and expect different results. I feel sad thinking about having the delusion that my posts will be picked up by CNN or Fox News or Buzzfeed or anyone. I honestly can't imagine doing anything again and again and expecting different results.
That idea is far, far too sad to end on. Shit.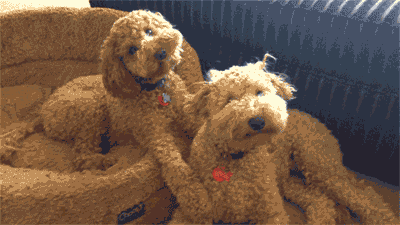 Ok. I feel better now. I'll see everybody tomorrow for SUS.