– He's the front runner for next week.
– And he's a very close second.
– If he wasn't in a Four-Way, then he will be next week.
– Looks like next week is ready.
– "Payment after bidding is done." Damn it. I wanted to pay before.
– I like this. That is all.
– Bad picture? Faded? Or both?
– Strangest second auction picture ever?
– "MUSCLE MEN COLLECTION OF M.U.S.C.L.E. FIGURES VINTAGE"
– Why is this over $1 per figure?
This listing (which may or may not be relisted as of posting) made me curious. The $60 BIN was too high in my opinion and I've said that before. And the previous two Lutteurs sold for $36 and $51. And all of those were in better condition. But my curiosity isn't rooted in the price or condition. It's in the bidders.
If the last listing reached a new high of $61, then where are those bidders? Am I crazy for being curious about that?
If I'm missing something obvious, then please let me know. I understand someone could suggest, "The bidders aren't there because the pack isn't in as good of condition." Ok. But if you were willing to pay 19% to 69% more than in the past, then don't you desperately want a pack?
– Dickhead. It's Class C. Trust me. 😉
– I like this too.
– I guess this lot starting at $25 isn't horrible.
– $4.99 + $3.50 = Total Joke
– C'mon.
– If a past combatant doesn't win, then does sticking around earn her a second chance?
– "Here's some vague info online from a recent blog.." Vague. I'm sorry, where can you find more information?
– Still dude? I had to check; he's at, at least, 289 days.
– Maybe I should cut him some slack. This guy is at 4 years, 11 months, and 27 days .
– I made a fair offer. I'm curious about the response.
I'm sure anyone reading this post already knows the
Quik Tube was relisted
. I also imagine everyone is curious about the specifics of the
obvious shenanigans
. Unfortunately, I don't have any for you.
I did have a question for the eBay seller garagesalecoach:
Why was this relisted? I thought it sold for $100.
He said:
The buyer decided they couldn't afford it right now and asked to cancel the order.
I was hoping to coax some more useful information from the seller:
I've never heard of someone saying that before. That's strange. Would you mind sharing the bidder list with me? In the M.U.S.C.L.E. community I believe we have a trouble-maker who could have been the bidder.
His response:
I looked at their previous feedback and there were no complaints and they hadn't purchased anything MUSCLE before.
I don't think it would be right to share that information. I wouldn't want somebody sharing my info with another user in a case like this. 😁
I got frustrated:
I don't think it's right that eBay allows shill bidding, without any repercussions, and multiple accounts to enable shill bidding. And this leads to people having to look out for each other. But it's ok if you don't want to help.
Then he said something I couldn't believe:
I don't know what shill bidding is.
If you're pretending to be an expert, then shouldn't you be familiar with something as basic as shill bidding?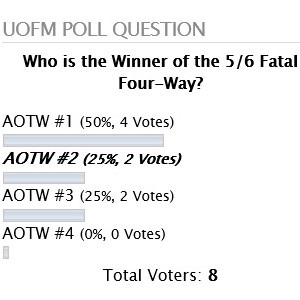 We have our winner from last week and that means we have four contestants for our Battle of the Champions AOTW Fatal-Four Way.
Let's take a look back to see how the winners got here. The Week #1 Winner snuck past his fellow combatants by a single vote. I imagine the auction picture helped him achieve victory.
The Week #2 Winner crushed his competition. His large margin of victory makes me think he could be the favorite entering the tournament.
The Week #3 Winner (originalgamemaster) is the most unique entry. He had to defeat three other sellers. This was contest was based on the sellers' overall listings.
The Week #4 Winner was selected because he had a BIN of $150 ($2.17 per figure) for some beat-up, dirty figures. I have to admit I'm surprised his challengers couldn't beat him – specifically AOTW #2 and AOTW #3.
Cast your vote and crown the first AOTW Fatal-Four Way Battle of the Champions winner. Here are the four combatants:

| | | |
| --- | --- | --- |
| | vs. | |
I'm already thinking ahead. Three more AOTW Fatal-Four Way Battle of the Champions match-ups and we're having a super-champion match-up.
I should make a trophy.
Moving on, here is your weekly installment of "Damn the torpedoes!"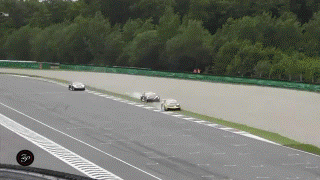 The race is hitting new levels of drama and excitement. Racer #1 shaved $2.07 off his price. Wow. It isn't a discount or sale. He simply lowered the price. After 2 years, 9 months, and 5 days you can tell he really wants to sell this figure.
Racer #2, as of writing, is taking a different approach. After over 8 months and 5 days Racer #2 seems to want to raise the stakes by withholding. The second racer does not have the Salmon #167 listed.
Drama.