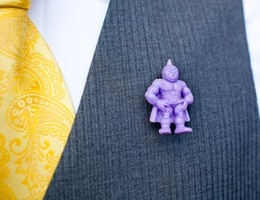 MMMM #4 might be the shortest one ever, but I really like that picture.
Unfortunately it's not as cool as the picture from the second post. Has there ever been a cooler picture?
It would be difficult to defend the "Yes" perspective. The sad part is that I don't know how Brandon is doing. Doctor Dew hasn't been on LRG. It feels like that post needs an update. Does anybody have one?
AW #133 is hard for me to revisit because it feels too self-congratulatory. The first two listings did whatever and the last two didn't sell – like I thought. Did anyone ever buy that stained figure?
Finally the Epilogue. I had to laugh after I saw this picture:

I laughed because I'm having the same problem right now. Five years later and figures still pile up in front of the brick wall. Somethings changes and others stay the same.