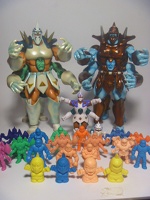 I really like Terry's SC collection in MMMM #7. I don't think anybody has been more vocal than me screaming that Satan Cross is not rare, but that doesn't mean I don't like the figure. And Terry's collection shows off a lot of cool figures. That big blue one really captures my attention.
Can you believe how many Class A figures were in AW #136? When I looked at the results, at first, I was disappointed my guesses were so inaccurate. Then it dawned on me that I had overestimated four Class A figures. I averaged an over-estimate of $11.63 per figure. I liked that the figures sold for less than I expected.
I underestimated three auctions. The Purple #2 sold for $30.66 more than I expected. I don't feel bad about that one. Purple #2 is popular and, ultimately, unpredictable. Green #186 sold for $11.50 more than I predicted. I have no explanation; no hypothesis. And finally the lot of 31 figures. It sold for $61.50 more than I expected. I think I undervalued the Light Blue #143. I imagine that drove up the price.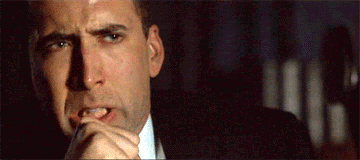 Finally there's the Epilogue from five years ago. I should use that Nicholas Cage gif in every Epilogue. That's what it looks like as I scan the mess that has become of eBay M.U.S.C.L.E. listings.
I thought Cindy looked great at 47. Today it looks like she's had a little-bit-too-much work done. Plastic surgery is weird.
The boys started to love board games five years ago. It's a full blown love affair today. King of Toyko, Catan, and Exploding Kittens are some fun ones that jump to my mind. I'm shocked that Uno Attack is still popular too. Once a year we have a scheduled full-blown Monopoly game with Grandma and Grandpa. It tends to get ugly. I think that's why it only happens once a year.
I was going to say something else, but..ummm…I, umm…I…got distracted.