Posts Tagged #212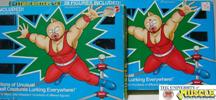 The 28-pack write-up has been long delayed because of the desire to add individual pictures of each 28-pack figure. Additionally, there are a few 28-pack pictures that also need to be taken. Instead of withholding the entire topic it seemed better to make the current information available; adding pictures and various improvements over time.

The only documented example of M.U.S.C.L.E. in a mail order catalog is the 1986 Sears Wishbook. Sears, along with Mattel and most advertisers, seemed unsure of the figures proper place – although the placement suggests probably the best understanding of the brand. Read more in Literature 200.

The Mega-Match board game is effectively absent from any Mattel and M.U.S.C.L.E.-related documents of the eighties. This does not make the game an accidental oddity that reached the marketplace. The board game is actually very common and, to some degree, regarded as the least exciting aspect of the M.U.S.C.L.E. brand by many collectors. This does not mean there aren't a few interesting aspects of the board game.