This week feels far too #153-centric. But some things are a constant. Purple #153 excitement is a constant in the M.U.S.C.L.E. community. Five years ago we were still talking about Purple #153. Five years from now we'll still be talking about Purple #153.
I think the #153 is utterly overrated. I fully understand why people like him. He is absolutely a lighting rod of nostalgic memories. But I like Purple #153 insanity. It has become a main part of the M.U.S.C.L.E. collecting fabric. I like that.
Speaking of Purple #153, maybe I should reorganize Environmental Sciences. It should only be 100 and 200; cleaning figures and the Purple Claw Project. That would be the least sexy update ever – dethroning this post.
The Infestors (set 2) was finally reviewed. I should do more of these. I really liked looking back and seeing two very different minifigures reviewed.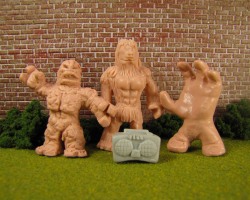 The first was H.A.C.K. Five years later my first thought was, "Was there a 2nd Edition?"
Sadly, the answer to that is a hard no. But it looks like there were plans. Does anyone know more details? Did the 2nd Edition end up as different releases?
I'd love to know the details of the unmade H.A.C.K figures. I might be the only one.
Of course that same curiosity led to Joe Morrison. Who knows what curiosity about H.A.C.K figures will result in?
Another unique figure was reviewed five years ago. That odd little figure's name is Man-Nie.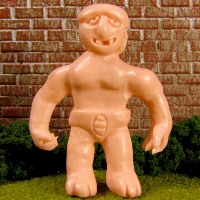 My gut tells me that many M.U.S.C.L.E. collectors didn't like this figure. I could be wrong.
I can honestly say, five years later, I like this figure more than ever. I see a weak Man-E-Faces, in his underwear, without his armor on. And that makes me smirk. Not many figures in my collection can, almost, elicit a laugh.
Like H.A.C.K I was curious what Peter Kato was doing today. Had I missed other minifigures? It doesn't look like it. Peter seems focused on bunnies right now.
That's cool, but I'd love for him to make another M.U.S.C.L.E.-inspired minifigure. Maybe a bunny M.U.S.C.L.E. figure?
Finally, there's the Epilogue. What's noteworthy about this?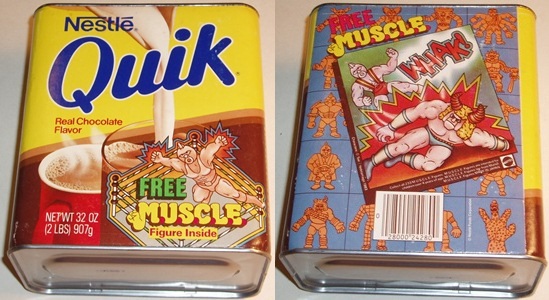 A fucking Quik tin. Damn I love these things.
Can you believe it sold for $320.51? That seems low to me. We saw a Purple #153 sell for $1,051.01 this week. There's no doubt in my mind that the Quik tin is 10,000 times more rare – but it's not nearly as popular. I bet only a handful of M.U.S.C.L.E. collectors would actually care about this item.