Manzilla supersedes everything from five years ago. I still love this figure. I will always love this figure. Has it ever been re-released?
Can I tell you what really shocked me when I looked back at the Manzilla write-up? The price. $16 for, arguably, one of the greatest custom M.U.S.C.L.E. figures ever created. It even came with its own minifigure. I've always felt the figure was a steal at $16. Maybe I was more shocked because this week I saw this figure again.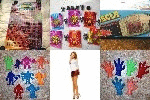 Poor Tommy Tanker. I won't whine about it again.
I thought AW #113 had some interesting auctions. But I was more surprised to see the tiny gif (the one to the right) that I put together for the main page. I clearly had too much free time if I was making that thing.
The Epilogue managed to make me angry again (when I saw the GB play), but I felt better when I re-watched the Triple H video.
Pre-Order the Exclusive Blood Red Tommy Tanker B.A.S.T.A.R.D. Figure