– If you finance this for $34 for 12 months, then you should give up.
– This listing has been around for at least 242 days.
– I wouldn't pay $75, but I always like seeing the insert.
– Cool to see.
– "ONE TIME CHANCE" for, at least, the third time.
– I wish I needed these MUSCLEMANIA figures. I like this color so much I would probably use the BIN.
– "I don't know if I have rare ones in here or not. I think there are some good ones in here based on the searches I have done." FAKE!
– Nice poster listing.
– Shitty poster listing.
– Did you see the feedback from this listing?
This dude showed up on my radar when he became AOTW 631 days ago. Adrian's debacle with this seller was also featured in an Epilogue.
What is shitter? The seller or eBay for allowing it?
I would have transitioned to the AOTW match-ups, but I forgot this is a Battle of the Champions week. While I'm excited to have our second BotC I had already selected four combatants for this week. Maybe they will return next week? But I certainly don't want to waste them. Let's take a quick look at the listing. The AOTW #1 is an absurdly over-priced 4-pack. The AOTW #2 might be the worst pair of figures with the worst price tag.
As I was looking for the third and fourth combatants I stumbled across this listing. I thought it was a slam-dunk. But then the seller topped topped herself. It would have been an easy AOTW #3. Then I saw the AOTW #4. I was conflicted about the same seller having two listings, but they earned it. They deserved to be the first seller with two AOTW listings in the tournament.
Let's get to the real tournament this week.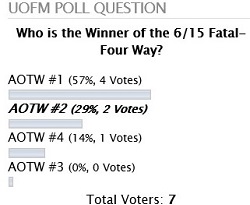 After the results from last week we have our second Battle of the Champions match-up.
It is an impressive group of combatants. During the first Battle of the Champions it was a little easier to think there were some obvious favorites. I don't feel that way with these for combatants. All of them are worthy winners – that's why they are here!
Remember to cast your vote and crown the next Battle of the Champions winner. Here are the four combatants:
| | | |
| --- | --- | --- |
| | vs. | |
Welcome to the continually revamping installment of "Damn the torpedoes!"
Racer #1 sits at 1,044 days and Racer #2 sits at over 282 days. That is entirely too many days for a $10 figure.
There's an old cliché that a habit can be changed in about 30 days. I have never subscribed to that idea. You can fake something in that period of time, but I've found six months (or about 180 days) is a better measure. After six months your new habit has replaced the old one or you can't fake the new habit any longer.
Of course, you have to want to change. With the racers' collective 1,326 days I think about my own life. If I went back 1,326 it would take me to November 4, 2014. The website was in timeout. If I look at the next Epilogue, then it really makes thing flashback in an instant. I'm shocked how much my life has changed. Some was accidental; some was intentional; some was professional; some was personal; and some was a function of time.
Looking back makes me think about the future too. In 1,326 days it will be Monday, February 7th, 2022. I will be on the cusp of turning 43 years old. That doesn't seem too crazy. My boys will be 13- and 11-years old. THAT seems crazy.
But when I think about that time, looking back or forward, I can't imagine a situation where $10 or $60 is a factor – unless it's as part of Damming the Torpedoes. And who's going to remember that? Not me.
Since yesterday was the first day of Summer, I think this gif is appropriate.