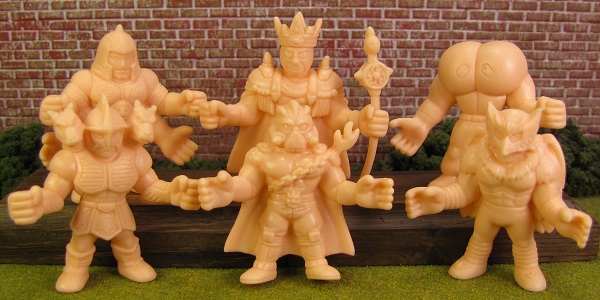 The posts about Vol. 1, Vol. 2, Vol. 3, and Vol. 4 have already covered most of the basic details. Let's dive right into the new M.U.S.C.L.E. figures.
I don't know about Satan Cross' history as a Kinnikuman character. However, given his M.U.S.C.L.E. history, I would be foolish not to start with this figure for Vol. 5.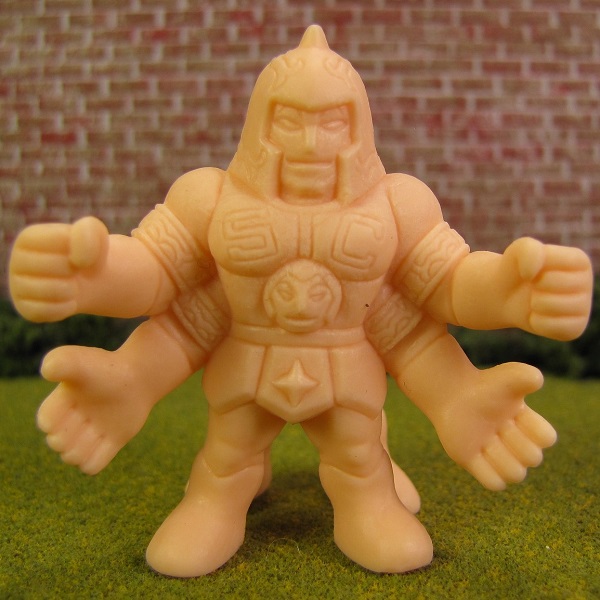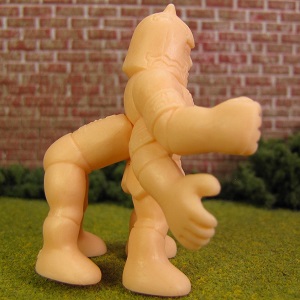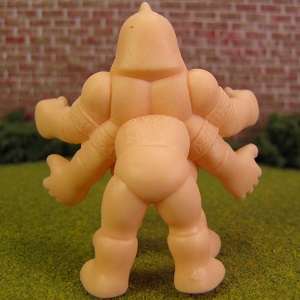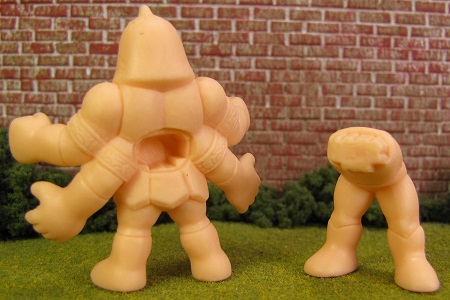 Satan Cross' sculpt looks great and love that it is a two-piece figure.
I was shocked that it was a two-piece when I opened the box. Maybe there was promotional material that showed it as a two-piece, but I certainly never saw it.
The design of the plug was especially interesting to me. It is much more complex than the original hole and plug. It also stays plugged in much more effectively than the original.
My nostalgic brain wishes there was a sword or shield, but it still looks great. Perhaps it's better that it's not the exact same as the original.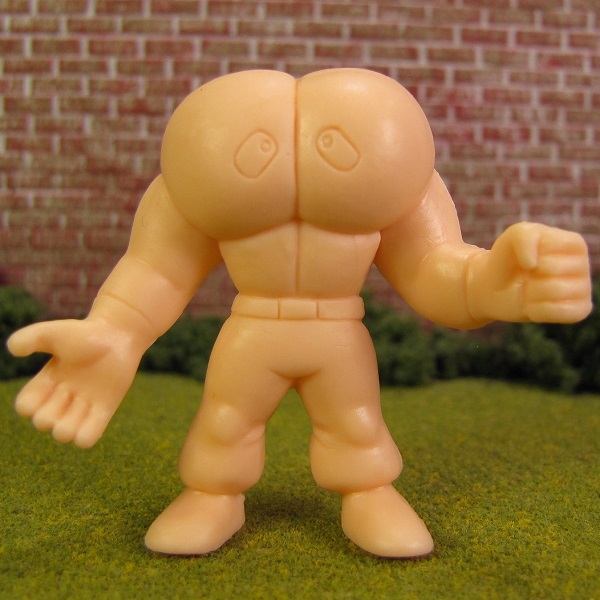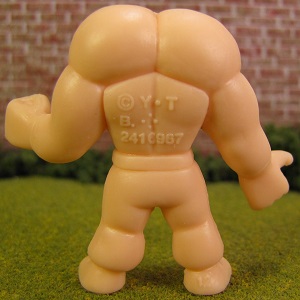 I was shocked when I knew the name of this figure: Puripuriman. Thank you Luke Harris.
I found myself comparing and contrasting the two figures. Ultimately I landed on considering Luke's the original and this a rehash. With that said, this new figure feels more accurate to the original character but Luke's feels more M.U.S.C.L.E.-like to me. Does that make sense?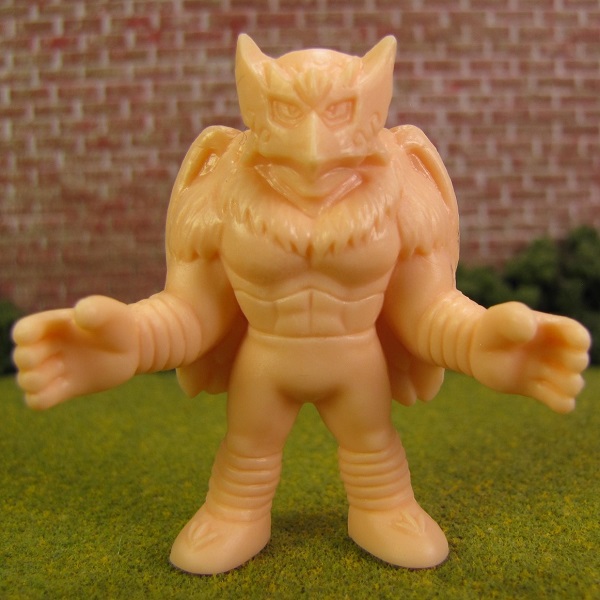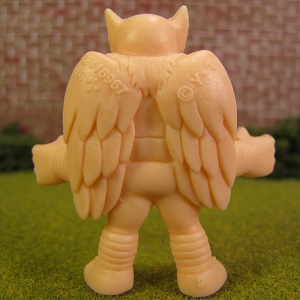 Is this supposed to be either the #50 or #97 figure from the original M.U.S.C.L.E. line?
It doesn't feel like it to me. This feels like a brand new figure, but that could just be my ignorance.
I love the mask and wings. I'm blown away by the sculpt. Are the three lines on each foot supposed to be a bird's footprint or am I reading into it? Either way it is the sign of a great figure. The artist placed a subtle detail or they created a figure that poured gasoline all over an imagination fire.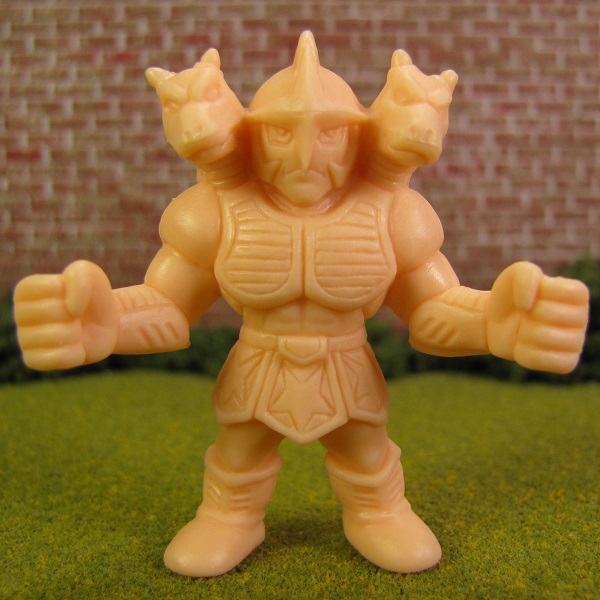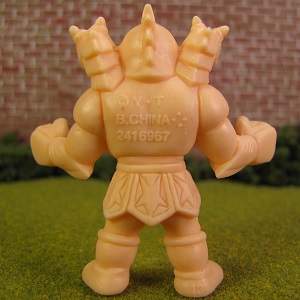 Because of Ultimate Muscle, I believe this figure is called Checkmate. I didn't care for Ultimate Muscle – especially the figures.
This version of the figure has changed my opinion. He looks like a kick-ass Knight with impractically-cool armor. This sculpt transported me to 1986. This emotionally felt like getting a new M.U.S.C.L.E. figure.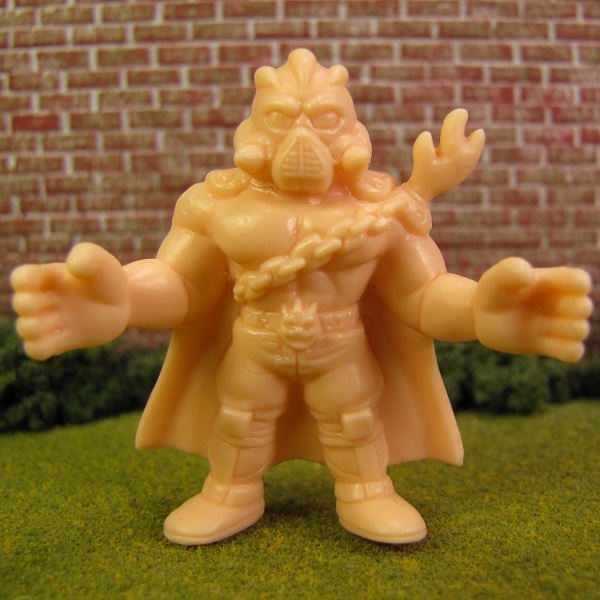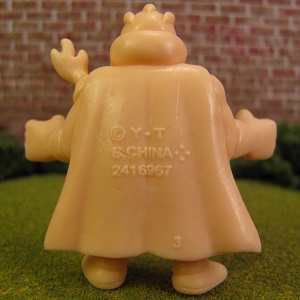 Bane. Darth Vader. The shape of that mask is going to draw some comparisons. However, I don't feel it overshadows the figure. I think collectors end up with a very cool figure.
I was a little confused by the flame coming out of the left shoulder. At first I thought it was the hilt of a sword. As I examined it closer that didn't seem correct. Is the flame strapped onto him with a chain?
Normally I like some ambiguity with my figures; this borders on frustration for me. As a kid, it would simply be a sword.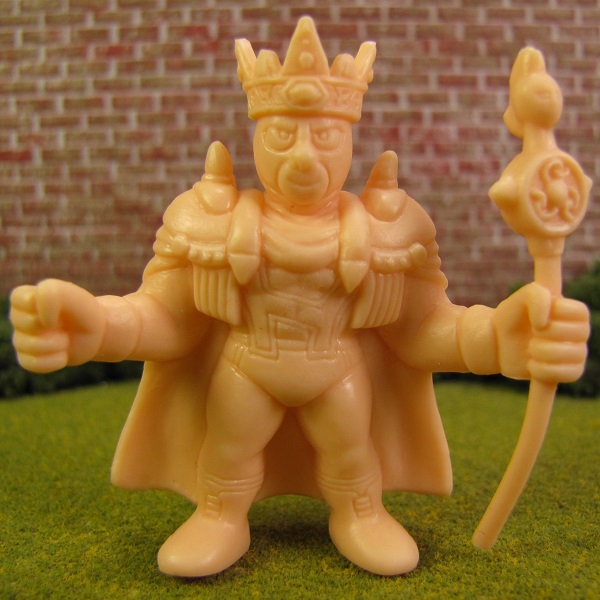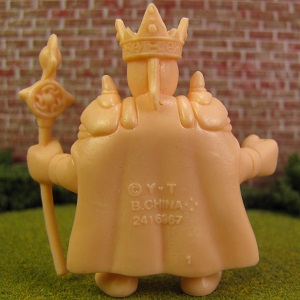 Proof that M.U.S.C.L.E. is king.
I know. I know. Never tell the same joke twice.
This sculpt is beautiful to me. I may have liked other sculpts better, but I would argue this is the most beautiful. Finding a way to impart regalness to a M.U.S.C.L.E. figure, specifically Muscleman, is amazing to me.
The head at the top of the staff is awesome too. It might be my favorite detail; very difficult to pick one.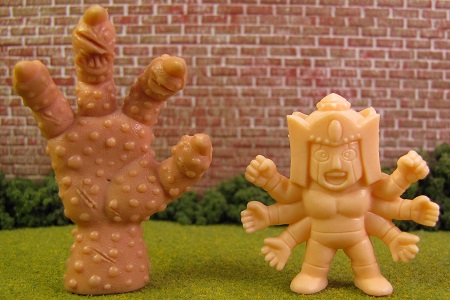 Chibi figures, with distorted proportions, have never appealed to me. I assumed I had ranted about this before, but I couldn't find anything on the site.
I'm glad, because I don't sound too contrarian when I say I kind of like this figure. I don't need chibi figures to start invading the series, but I don't mind this one. He seems fun. Too often M.U.S.C.L.E. collecting can get very ugly and not fun. I'll welcome anyone and anything that injects a little fun.
Finally there is a new Sunshine pyramid. When I originally saw the picture of this figure I wondered how he compared in size to the other Sunshine figures.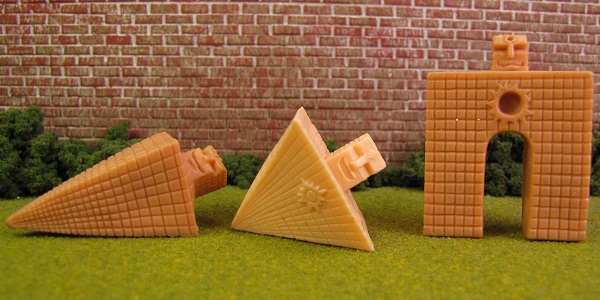 I like that the pyramid shape isn't as elongated as the #107 version. I imagine some collectors might disagree.
When a M.U.S.C.L.E./Kinnikuman character is resculpted I am largely indifferent towards the effort. For example, the resculpted #48 figure. I feel nothing for it. Not good; not bad; just nothing. That's why I was surprised I liked this figure. It felt like a new version and not a straight-ahead resculpt.
If you're looking to buy this set, then don't go to eBay. It is always overpriced. My suggestion is still Mandarake, but keeps checking the site. These sets show up and disappear pretty quickly.