Posts Tagged #27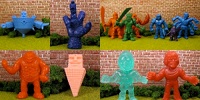 The custom figures examined showcase the stunning influx of talented artists working on custom M.U.S.C.L.E. figures.

This is the official archive for The University of M.U.S.C.L.E. as it attempts to document a full 233 counterfeit M.U.S.C.L.E. figure collection through the submission of collectors' pictures. The collection is part of Art 100.

Art 100 showcases the variety of counterfeit figures created in the wake of the popularity of M.U.S.C.L.E. figures. For some collectors these figures represent nothing more than sloppy copies of the beloved figures. Other collectors might see the uniqueness, kitschiness, and/or historicalness of the figures. Auction Watch #37 gives us an opportunity to focus on one unique counterfeit figure, and acknowledge the other figures.