Posts Tagged Tweaks

Two lots in one, a lesson, and a beautiful tweaker.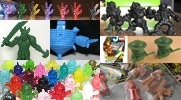 One group of "courses" that has been reorganized and shifted more than any other University of M.U.S.C.L.E. course is Art. Once again Art is in need of reorganization.

Frankenstein-like Amalgam Figures and Tweaks is a part of Art 100. The purpose of this visual archive is to catalog the various examples of Frankenstein-like Amalgam figures and their inferior counterparts – Tweaks.