Posts Tagged #55

This is the official archive for The University of M.U.S.C.L.E. as it attempts to document a full 233 counterfeit M.U.S.C.L.E. figure collection through the submission of collectors' pictures. The collection is part of Art 100.

Recently the University of M.U.S.C.L.E. made over a dozen new literature discoveries. Many of the discoveries may force the creation and/or complete reconstruction of the Literature courses. Sadly there have been many challenges posting comprehensive updates. However, the discovery of the November 1986 issue of Working Mother seemed too exciting not to share.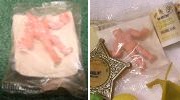 One of the most mysterious, and fun, aspects of M.U.S.C.L.E. collecting relates to the Nestle Quik promotion (which is examined in Advertising & Promotion 300). Figures still sealed within the promotional package, which was enclosed in the Nestle Quik tin, are not often discovered. This week two figures have been discovered.