Posts Tagged #213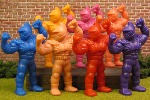 A complete visual archive of M.U.S.C.L.E. figure #213.

This is the official archive for The University of M.U.S.C.L.E. as it attempts to document a full 233 counterfeit M.U.S.C.L.E. figure collection through the submission of collectors' pictures. The collection is part of Art 100.

The People vs. M.U.S.C.L.E. – Part 2 follows the same framework for M.U.S.C.L.E. advertising that had been established the previous year in the two commercials. Sadly, for the final M.U.S.C.L.E. commercial there appears to be a far less focused approach. However, hardcore Color figure collectors likely view this commercial as the single greatest thirty seconds of video ever uncovered.