Posts Tagged #108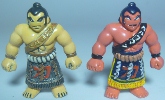 After a long hiatus Professor Terry is back with one of his favorite figures – #108.

Thanks to the ongoing contributions of Lucas Rage there have been 15 additional figures added to Art 100's 233 Counterfeit Collection.

This is the official archive for The University of M.U.S.C.L.E. as it attempts to document a full 233 counterfeit M.U.S.C.L.E. figure collection through the submission of collectors' pictures. The collection is part of Art 100.