Kinkeshi Premium
figures have been released as complete boxed sets (Volumes
1
,
2
,
3
,
4
,
5
,
6
,
7
,
8
, and
9
). Bandai added to the Kinnikuman Kinkeshi Premium figures by releasing a series of figures in vending machines (
Gashapon
). The capsule has a checklist and single sculpt. The main Gashapon series has six sculpts in three colors: (1) Flesh; (2) Blue; and (3) Red. Some sets have painted chase-figures. Some of the sculpts are two-piece, which was a trait of some original Kinnikuman figures. The
first series
,
second series
,
third series
,
fourth series
,
fifth series
,
sixth series
,
seventh series
,
eighth series
,
ninth series
,
10th series
, and
11th series
have already been reviewed.
There are also special "best of" sets. These figures follow the same format, but the colors are Flesh, Green, and Clear. The first and second sets of this special "best of" figures have already been reviewed.
Bandai released yet another special set, "Kinnikuman Wazakeshi Premium." This new set features two-piece combinations of characters. The sets contain five two-piece sets. They only color that is available is the original keshi/M.U.S.C.L.E.-flesh color. The first and second volumes have already been reviewed. The most recent special edition from Bandai does not seem to have an overarching title or brand. The most recent set is simply called, "Clan Forces Gathered."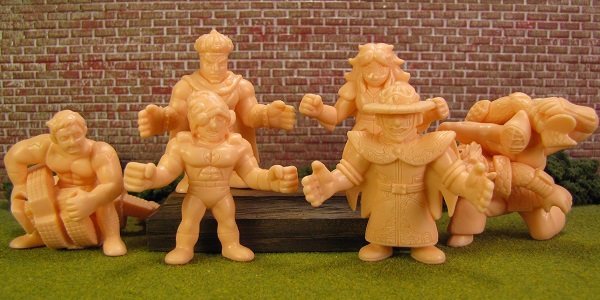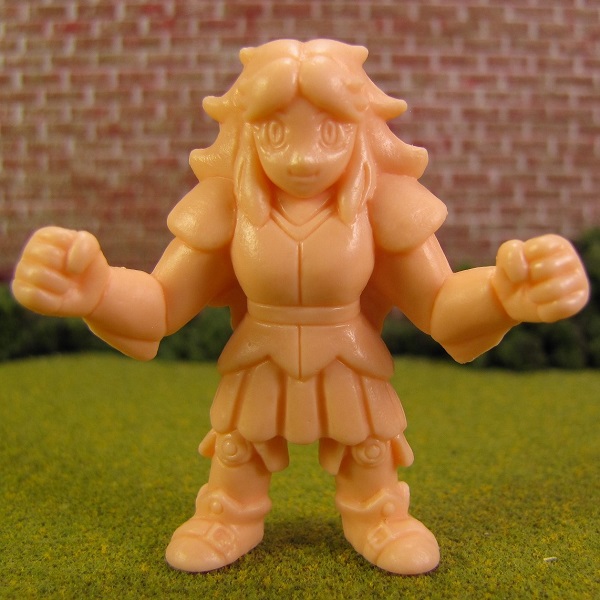 There were female characters in the original release of Kinnikuman figures. There weren't female M.U.S.C.L.E. figures (and don't you dare suggest C.U.T.I.E.'s).
With those simple pieces of information it seems like I shouldn't like this female character. I don't like her – I love her!
I didn't know there was a female figure with this set, so I was very surprised when I saw her. I was even more surprised when I liked her – especially because she felt like a M.U.S.C.L.E. figure. She was recognizable, but mysterious. I think ever M.U.S.C.L.E. character needs to start there.
I love the entire sculpt. However, I do think the face has a slight Nintendo feel to it. That's not a good or bad thing, but the face makes me think Nintendo.
Speaking of faces, we've got to take a look at Kinnikuman with his mask slipping off to reveal his face.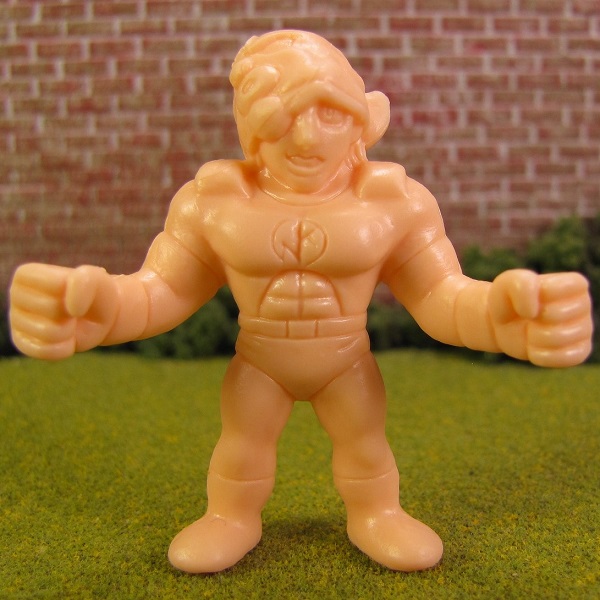 Kinnikuman's mask is what makes this figure work. To make this sculpt work the mask had to have just the right…flop and lifelessness to the mask. They nailed it.
As usual, I'm sure this is tied to a specific, significant moment. I don't care. If I had total control, then I would have liked to have seen a less neutral pose. Maybe sitting with his hands on his knees? Or maybe with his hands pulling on/off the mask?
The pose doesn't reduce my enjoyment of the sculpt, but I do have a preference.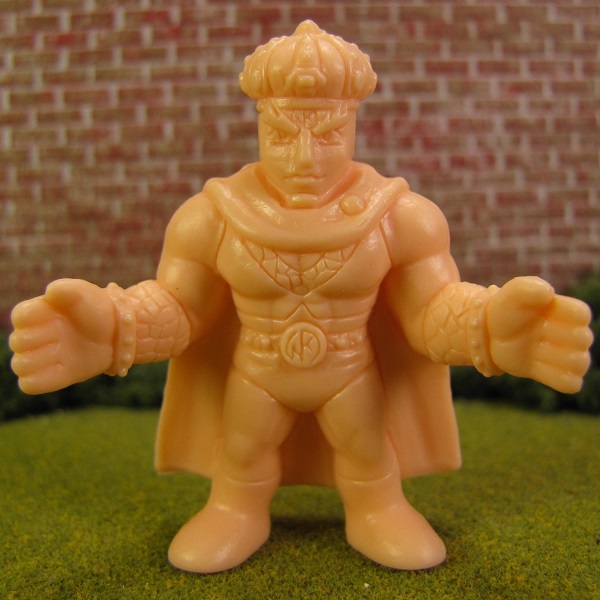 Eyebrows.
This figure/character, to the right, is made by his eyebrows. The figure would probably have looked pretty cool with any face. The choice to give these large, menacing eyebrows to the face injects the character with instant backstory. I can't imagine I'm alone with that thought.
Are eyebrows the smallest detail to make me love a figure? It might be the smallest. Can you think of a smaller detail you noticed that made you love a figure?
The previous Gashapon post was the first time I highlighted a painted figure from a set. I didn't think I would revisit the painted figures.
The next figure, seen below (unpainted on the left, painted on the right), is my example for how badly painting a minifgiure can go – and why I will no longer bother with the painted figures.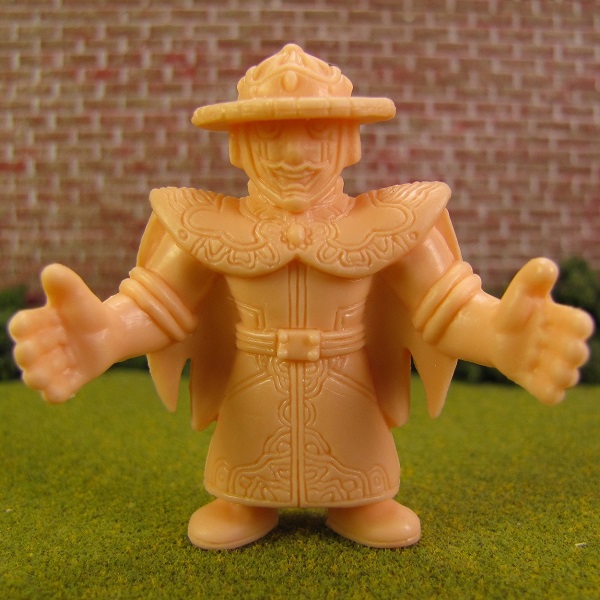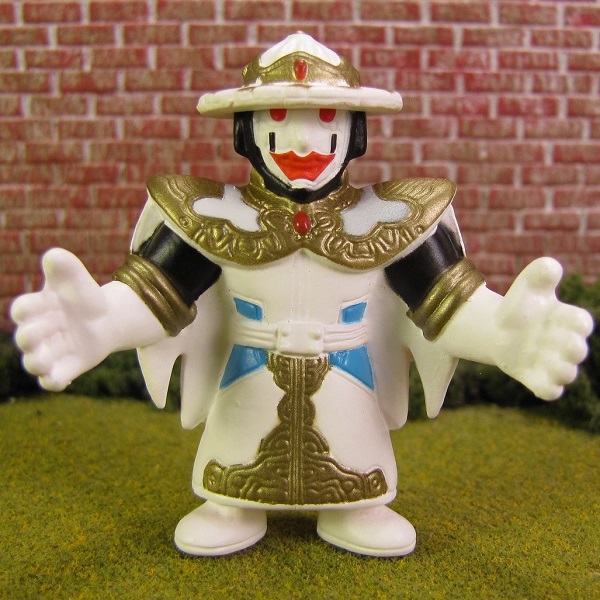 The figure to the left is the unpainted M.U.S.C.L.E. figure. You can easily see the small, intricate detailing. The figure is so beautifully detailed that I don't mind his similarity to the version from Vol. 2.
The figure to the right looks like a circus clown. The details disappear. I hate it.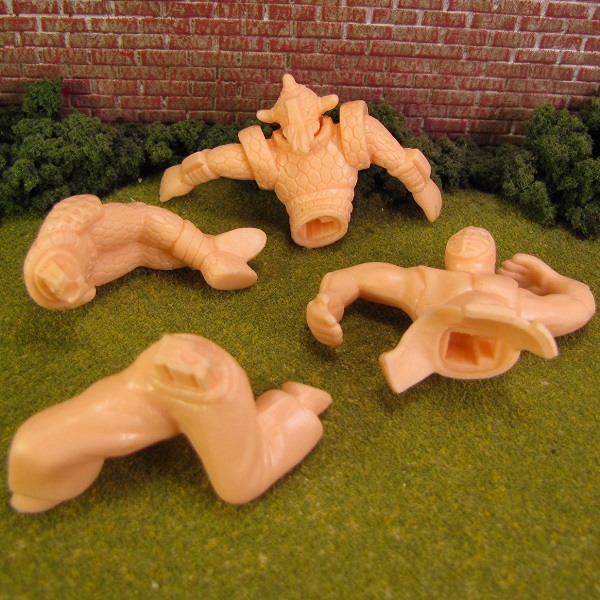 This set's two-piece figures surprised me. I didn't expect to see four pieces for each two-piece combination.
I don't really love or hate having to put together my two-piece M.U.S.C.L.E. figures, but it was surprising.
The other surprising part of these two-piece figures is that I really liked both of them. This is the level of quality I'm expecting twelve sets into the series. Bandai killed it with these combinations.
I don't need to know the scene or even the characters. When a figure, or two-piece, looks good you don't need to know the story.
"But these figures are for Kinnikuman fans! They're giving people what the want from the stories!"
I'm sorry. I disagree. I think great figures (and toys) interest you without having to know the backstory details.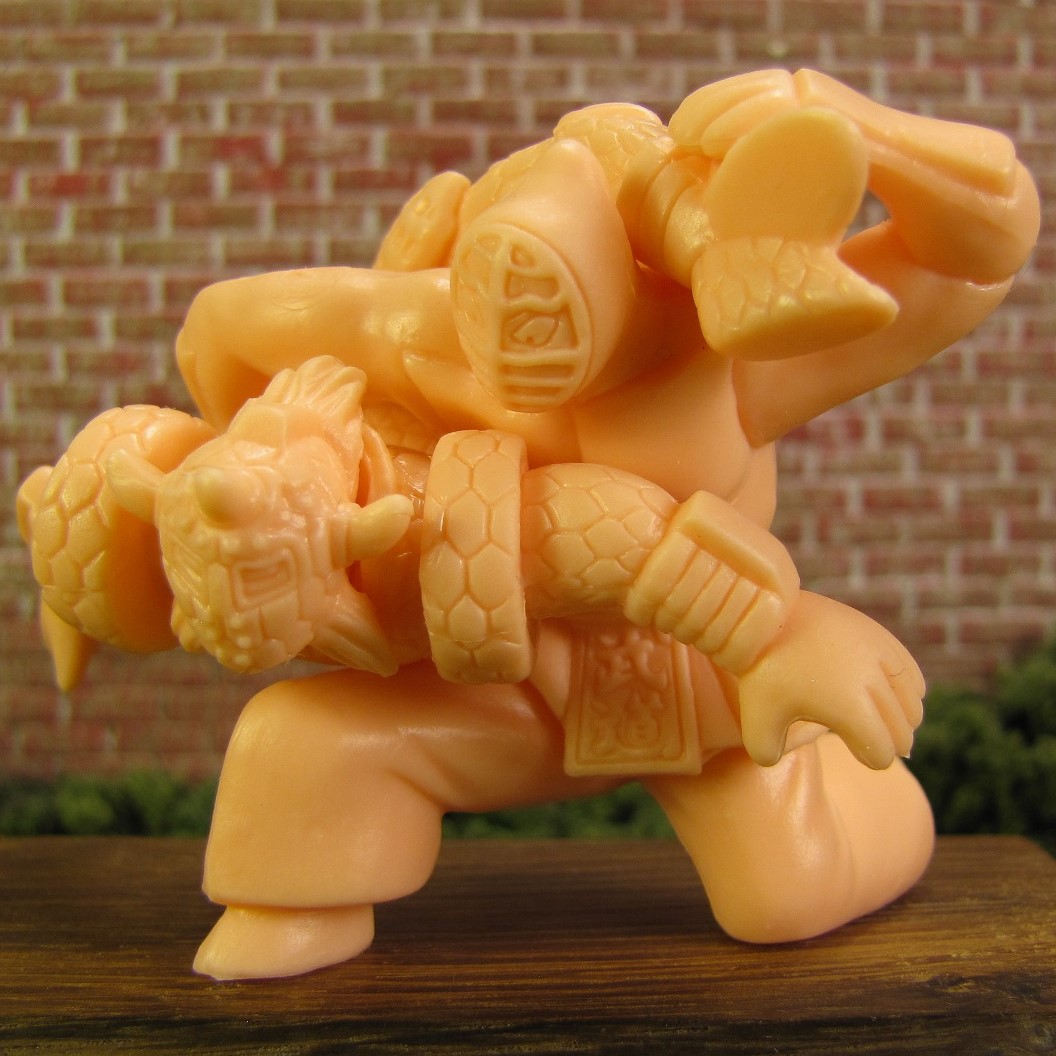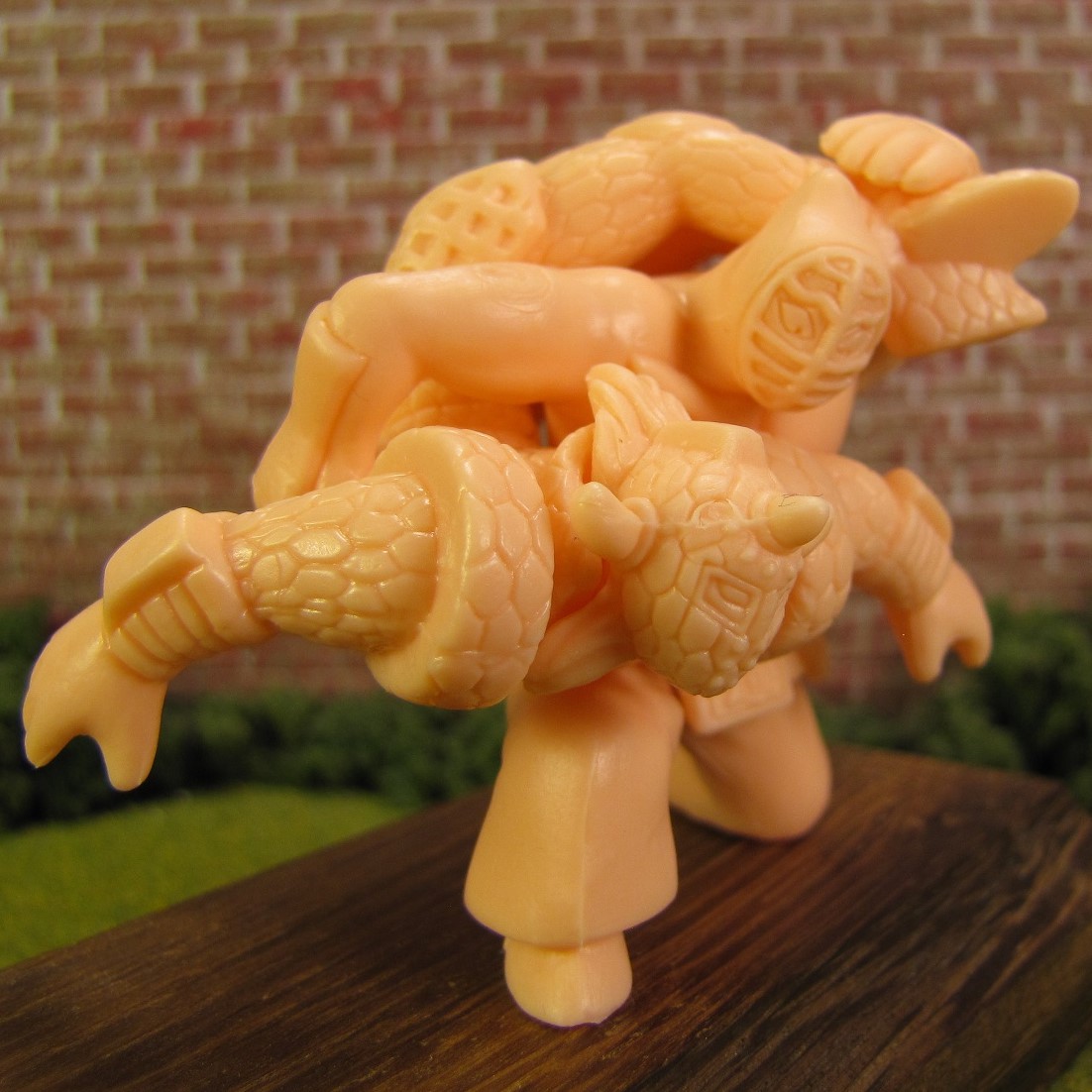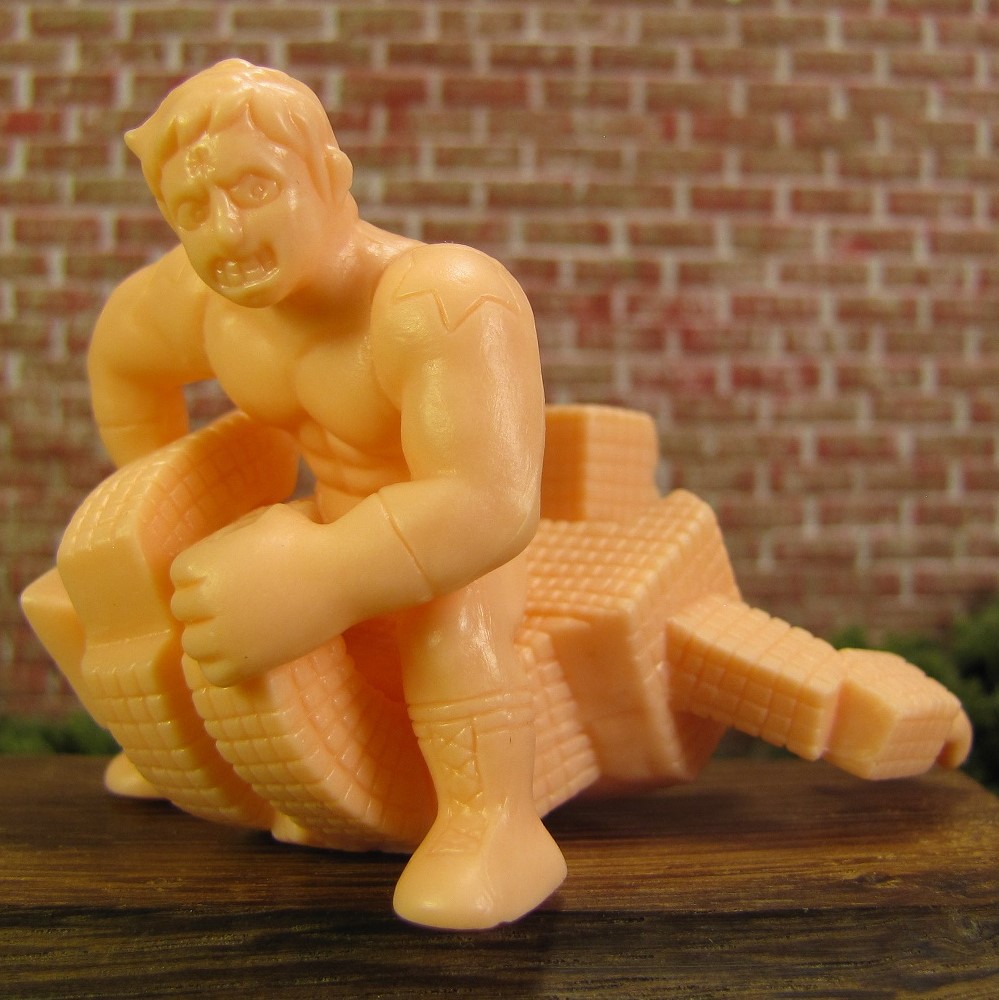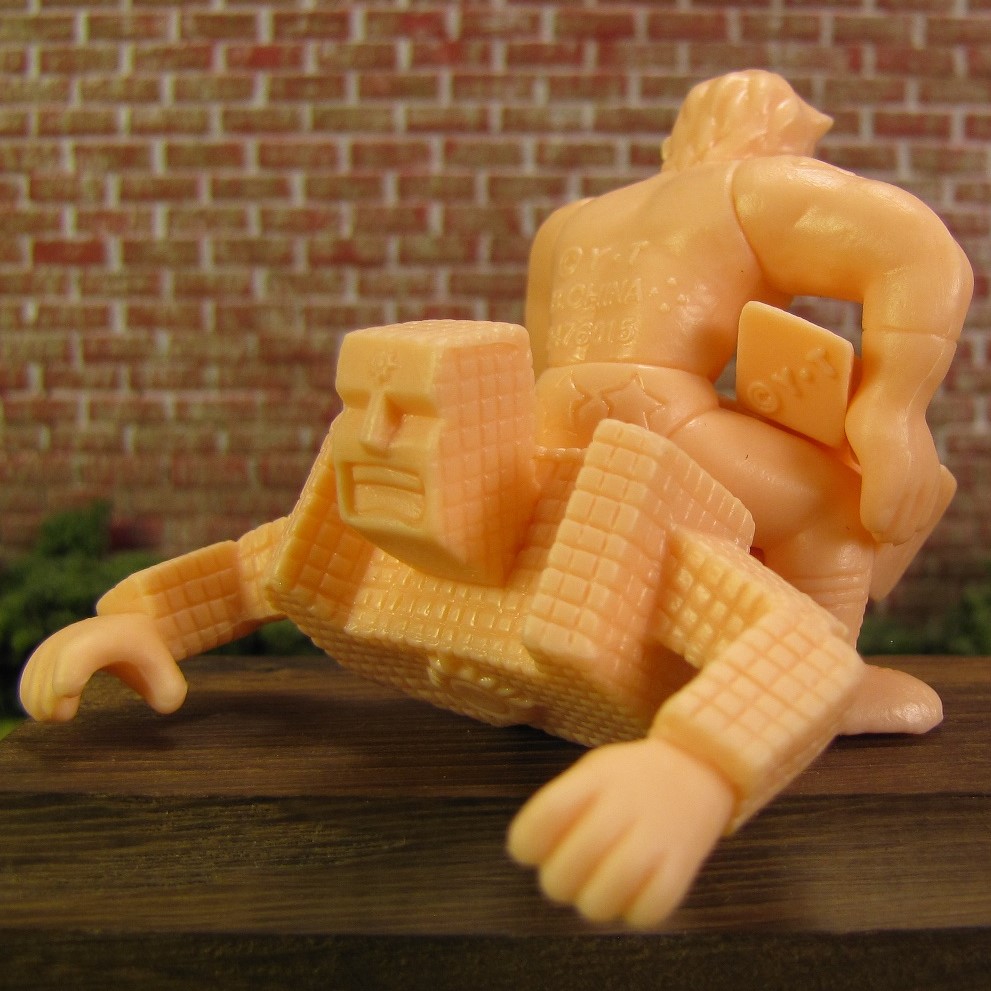 The