Posts Tagged Prism Man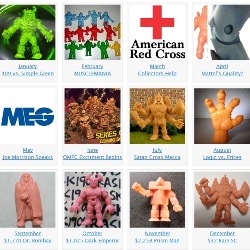 For the last five years there has been a retrospective look at the universe of M.U.S.C.L.E. collecting. What did we see this year and what might we see next year?

Last week it seemed like the M.U.S.C.L.E. auctions were expensive and limited – the pricing wave was cresting. This week the wave has crested and is crashing down in a stunning number of awesome auctions.

Details about each of the "Super Rare" M.U.S.C.L.E. figures can be found in History 300. The goal of Philosophy Philosophy 200 is to examine the mysteries that surround these figures in addition to presenting theories about the source and cause of "Super Rare" M.U.S.C.L.E. figures. This section focuses on the Non-Poster Alpha Figures.