Posts Tagged #134

I'm sure this Auction Watch would be Matt Pinfield's favorite.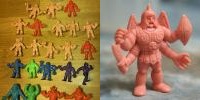 An Auction Watch hypothesis: Does a lower starting bid ensure a higher final price?

This is the official archive for The University of M.U.S.C.L.E. as it attempts to document a full 233 counterfeit M.U.S.C.L.E. figure collection through the submission of collectors' pictures. The collection is part of Art 100.