Posts Tagged #221

Auction Watch #73 will bring a little more sunshine than normal into your life.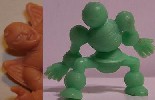 The vast majority of collectors have come across figures with small problems – normally some type of warping: an oddly positioned foot, arms or legs too far apart or too close together, a small dent in the figure, or a pose that simply does not match identical sculpts. This warping could be called, "The M.U.S.C.L.E. Warp."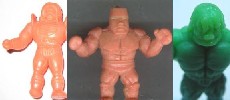 M.U.S.C.L.E. figures were created using an injection molding process. This process reduces cost, increases efficiency, and produces an outstanding final product. However, it is impossible to have a 100% perfect production process. Errors and slight abnormalities will occasionally arise.