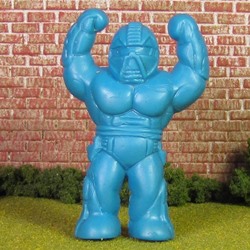 Recently I purchased an inexpensive lot of MUSCLEMANIA figures. The lot contained a Dark Blue #2 that I needed. Plus it gave me the opportunity to update the picture in the visual archive.
It was the first time in a very long, long time that I had actually thought about my MUSCLEMANIA collection. I was looking at the site and my collection and was hit with a theory.
I am starting to believe MUSCLEMANIA legitimately came out before M.U.S.C.L.E. figures. He are my key thoughts supporting this theory:
Figures #1-12 were released in 4-packs before M.U.S.C.L.E. figures. This is the "1984" 1st wave release.
These figures were cast in the Firm rubber, in six colors (Dark Blue, Light Blue, Yellow, Red, Green, and Translucent Green).
MUSCLEMANIA is largely unpopular, and M.U.S.C.L.E. is released – becoming a smash hit.
Select, to better capitalize on the success of M.U.S.C.L.E. toys, re-tools to include a 12-pack and 12 new figures.
Select adds a seventh M.U.S.C.L.E.-like "Flesh" to their list of colors.
To have a competitive price point with M.U.S.C.L.E. toys there must be a cost reduction. Select changes to a lower cost manufacturer and a lower cost figure material.
Here is the final, wildest, and most longwinded thought. For a possible variety of unknown reasons, the first manufacturer kept the original molds. This is why the Stretchy figures are slightly smaller.
Select believes a new SKU (the 12-pack) may sell better to retailers that did not see success with the original SKU (the 4-pack). Given the success of M.U.S.C.L.E. retailers are willing to take a greater chance on weird, little, wrestling, monster figures – especially if it is a lower cost option. I believe this period focuses on the #13-24 figures. This is the "1985" 2nd wave release.
For the "1986" 3rd wave release Select essentially purges their final inventory. All the figures are cast in the remaining inventory and/or the lowest cost option – likely primary colors; not the "Flesh" color. This is why we never see Figure #1-12 in the "Flesh" color. Then the line is dead.
This is why I think a Master Set is impossible for MUSCLEMANIA. What do you think?
More importantly, does anyone have a Firm, Flesh version of any of Figures #1-12?
As a small endnote, I believe this theory supports the idea that Army Man Plastic figures are counterfeit figures.