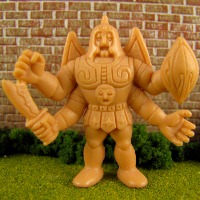 From April 2003 through April 2007 every effort was made to track the appearance and final sale price of eBay listings that included Satan Cross. Those efforts became Economics 200 – Case Study: Desire vs. Demand.
It has been 12 years since those efforts ended. Did those results influence anything? Not at all. The Satan Cross figure created a mythos more powerful than any data or logic. Many collectors still don't want to openly admit Satan Cross is a regular Flesh figure that was omitted from the promotional poster.
Since 2009 Satan Cross has shown up in, approximately, 88 Auction Watches. It could be even more because a figure could have been cited and not tagged. It was impossible to find an even remotely accurate Satan Cross appearance count in the Epilogues. There have been 286 Epilogues over 8 years (there should have been closer to 417, but it didn't happen every week). Most Epilogues had at least one mention; many had several; and some intentionally ignored the figure. I think it is fair to assume, given all that information, that at least one SC was spotted per week.
Recreating the original efforts is impossible. Both my life and eBay have changed significantly.
I needed a methodology that is reasonable and attainable. Here is the plan:
There will be every effort to take a weekly scan of eBay.
I will only go 10 pages deep, with 50 listings each page, worldwide, and starting with newly listed.
To get a better sense of figure overall figure frequency. I will look for four Flesh figures.

From Part 21 – Satan Cross

This figure was selected as the focal figure.

From Part 21, Tree One – Figure #224 in Flesh

This figure was selected because it comes from the same part as Satan Cross. However, we're not 100% sure which Tree SC came from originally. An easily identifiable figure should be selected from each Tree.

From Part 21, Tree Two – Figure #222 in Flesh

This figure is also from Part 21. This figure is believed to be from the second Tree. It is also easily identifiable.

From Part 19 – Figure #208 in Flesh

Anecdotally, I have always felt this figure shows up more than any other figure. It serves as a useful control figure and is easily identifiable.

Discovers will be shared each Sunday in Satan Cross Sunday.
The types of listings will be noted.
Every effort will be made to note repeated listings that are identified.
Did I miss anything? Do you guys have any suggestions?