This subsection section of Art 200 attempts to collect all the know fan art, in the format of drawings, from 1999.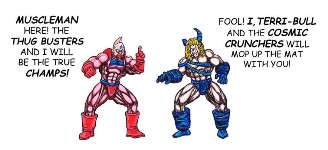 Artist: Kevin Mayle
Date: 1997
This is a recreation of the cartoon on the back of a M.U.S.C.L.E. 4-pack. It was the last picture Kevin made before taking a hiatus from the hobby in 1999.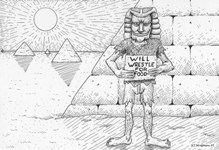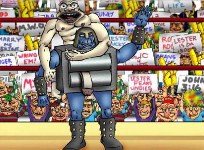 Artist: Todd Huffman
Date: 1999
These two pieces were created for Jason Radniecki and posted on his MCW website. The left hand picture was titled Lamont the Homeless Pharaoh and the other picture was titled Lester vs. The Wringer.

If you have any drawings, paintings, painted figures, or any other fan art that you would like featured, then please send them to the University of M.U.S.C.L.E. with a brief explanation of the pictures, plus the date (as close as possible) of its creation.