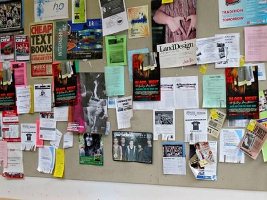 Fridays, Saturdays, and Sundays have historically been quiet times for the University of M.U.S.C.L.E. I thought it might be interesting to post some links to various auctions, older posts, message board threads, and anything else that might be interesting to M.U.S.C.L.E. collectors.
If the University of M.U.S.C.L.E. has been constructed in the style of a college or university, then these weekly posts should be thought of as the thing on campus covered with posters, stickers, and announcements.
– Even with the Satan Cross this lot is way too high.
– Why do sellers break up ok lots into terrible small lots?
– Buy this poster if you want nothing but problems.
– Thinking like this would have yielded Reese's famous combination of sardine and chocolate.
– Jesus. How fast does this person fall out of love?
– 159 figures…and they are…wait for it…"RARE!"
– Don't miss l.designs' Cthulhu 2.0 Test Pull.
– "Yeah, this picture will be fine."
– 85 figure Flesh lot.
– Any Class A?
– Here is some unimportant news.
– I wonder if this piece of Playstation news will last?
– Good news for the UofM School Store.
– Them and the rest of the internet – zing!
– I loved this stuff, but it has about a 100% chance of making kids cry.
– Coolest t-shirt site I've seen in a long time. 24 hours, then gone.
– Voltron USB Drive. Awesome.
– I keep reading how cute this is. It is so awkward and uncomfortable that I just can't watch it.
– The cutest little family.
– You are a bad M.U.S.C.L.E. collector if you haven't seen this yet.
– I break with thee, I break with thee, I break with thee. Then you throw dog poopy on their shoes.
– Veers Keshi. Most people should like it, but there should also be a handful of people that hate it too.
The SPAMbot of the week proves that size doesn't matter:
penis advantage