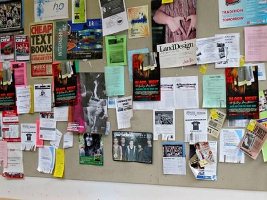 Fridays, Saturdays, and Sundays have historically been quiet times for the University of M.U.S.C.L.E. I thought it might be interesting to post some links to various auctions, older posts, message board threads, and anything else that might be interesting to M.U.S.C.L.E. collectors.
If the University of M.U.S.C.L.E. has been constructed in the style of a college or university, then these weekly posts should be thought of as the thing on campus covered with posters, stickers, and announcements.
– Everytime I start thinking people aren't so bad they do this.
– I want to buy this for Dr. M.U.S.C.L.E.
– Is this the first time we've seen one of Wolf Voigt's figures sold by someone else?
– Now I know this isn't the first time one of Marty Hansen's figures have been resold.
– Positive: Claw 4-pack. Negative: Someone stepped on it.
– Can an auction be cute and a little sad at the same time?
– WHAT?!?!?!
– 125 Flesh figures.
– Pretty cool custom casting of a Sunshine figure.
– Another cool custom from the same guy. This one is MUCH better.
– 10-pack…again. Whats the over/under for 10-packs featured? 126.5?
– 97 figures.
– 100% accurate is the word "good" is synonymous with terrible.
– I guess the $30 Buy-It-Now didn't work. (You'll laugh if you read last weeks Epilogue. I hope.)
– Perfect for the people that passed on the $30 Buy-It-Now 4-pack auction.
– Rare = Shit (Example #6,458) And callback number two this week.
– I imagine this is how a serial killer would write an auction description.
– "Lot of 14 Muscle Men! These are Vintage Toys!" Why did that make me laugh?
– A simple and sane M.U.S.C.L.E. auction. You don't see those every day.
– I read this because I know my oldest will someday ask, "Dad, where did dinosaurs come from?"
– Awesome Grimlock vs. Soundwave post over at The Dork Dimension.
– I hope this is for a custom, otherwise someone paid nearly $8 for trash.
– I know I'm a nostalgic nerd because I want to buy this.
– Great idea, I just don't have the time to figure it out.
– Hey, that's great news. What about all my information you gave away?
– I understand why this could upset a responsible gun owner. Sadly, any idiot can become a parent.
– Meet – The Barnacle.
– How many M.U.S.C.L.E. figures could fit in here?
And in honor of a special lady's birthday, I offer one of her favorite YouTube videos. Thanks stupid!:

Is this SPAMbot doing a terrible Borat impersonation? Or is it Ali G?
Nice topic – respect !