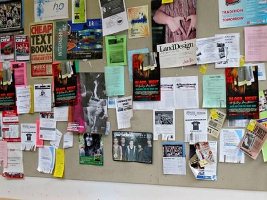 Fridays, Saturdays, and Sundays have historically been quiet times for the University of M.U.S.C.L.E. I thought it might be interesting to post some links to various auctions, older posts, message board threads, and anything else that might be interesting to M.U.S.C.L.E. collectors.
If the University of M.U.S.C.L.E. has been constructed in the style of a college or university, then these weekly posts should be thought of as the thing on campus covered with posters, stickers, and announcements.
– Is this true?
– Yeah, I would totally crash tha…Hey! What's that?!
– I prefer to think this is a 100% true story.
– Looks like Amazon is getting ready to blow-out Hanful of Heroes.
– Why does this shirt actually make me happy?
– Does it make me a bad Dad if I don't want any of this stuff?
– Wanting this is probably one of the things that makes me a bad Dad.
– The idea of 173,954 rare toys makes me laugh.
– Is it the 6-inch figure driving up the price of this auction?
– It can't be "scrubbed off."
– Kind of a fun lot, but the auction description is insane.
– You know who would love this? The Beyblade bathtub kids.
– When I see something labeled, "MISB." I don't picture this.
– Oh good, another broken ring has hit the open market!
– Did you ever want a #153 made out of ponies?
– This was totally off my radar. There is a reason it didn't stay off forever.
– Please, please, please help us!
– I love the name Fruity Tooty for M.U.S.C.L.E. toys! Go buy some!
– If you have not seen this yet, then you lose 15 M.U.S.C.L.E. cool points.
– Where do we order these from?
– Think of it like "People of Wal-Mart," but on younger, louder, more drugs, and only in Detroit.
– Pretty awesome auction if you're looking for Kinnikuman 28-packs!
This is the best musical comedy bit ever. Don't quote me on this, don't hold me to that:

Ok SPAMbots, you've stumped me. Who is this supposed to appeal to?
how viagra works video