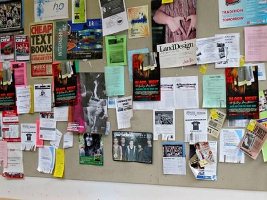 Fridays, Saturdays, and Sundays have historically been quiet times for the University of M.U.S.C.L.E. I thought it might be interesting to post some links to various auctions, older posts, message board threads, and anything else that might be interesting to M.U.S.C.L.E. collectors.
If the University of M.U.S.C.L.E. has been constructed in the style of a college or university, then these weekly posts should be thought of as the thing on campus covered with posters, stickers, and announcements.
– Fine. You win Mrs. Veers. (I love that lady.)
– The "can is sealed and unopened." Oops!
– "Rarest?" Isn't this actually the most common?
– Cool, but still too much. What would you pay?
– How much for the 'Super Rare?' (See Note Below)
– A review is coming (get it while it is cheap).
– WHAT is in the bottom right corner?!?!
– They must have based their BIN on Cloud City Collectibles.
– Are there some good figures in there? (I\'m more worried the baby is going to wake up.)
– Is this a good Kinnikuman auction? Seems like it to me.
– If you can't use his dust, then just buy his figures!
– SERIOUS BIDDERS ONLY
– Every now and then a M.U.S.C.L.E. search shows you something awesomely unexpected.
– Almost 100 figures, a SC, and a great opening price?!?!
– The real news here – someone paying attention to women's weightlifting.

–
The only degree more useless than…nope it's the most useless.
–
Great custom M.U.S.C.L.E. figures! I think Wilson is my favorite.
–
Apple fans will tell you how awesome this is, and Windows fans will tell you it sucks.
–
I think the headline should have read, "World's Best Idea!"
–
1 Shot Toys has some pretty awesome custom M.U.S.C.L.E. figures
(If you want to buy them, I think you need to contact
Er0k26 at LRG.com
).
–
Whenever I read a sane medical article about autism, I sense the internet filling with the cry of, "Dey gots it from shotz!"
This isn't even a political statement. When I heard Sarah Palin talking, my brain went right to "The Iraq." These two videos make me laugh, and then feel really, really sad.

This video made me laugh much harder than the last two. Although, it's just so perfect that my brain keeps yelling, "FAKE!"

SPAMbot, you might as well ask me about corporate income tax and Tennessee business tax amendments plus repeal and transition considerations. You literally could not be asking a worse person:
Recently i had some troubles with my hair extensions. I came across this page they usually is pretty trustworthy in my opinion, has anyone about this board heard or know anything regarding it? If you do please let me know for desirous to repair it!
NOTE: Sorry, it seemed funny. Admit it, how often do you scan auctions hoping to see something!