I was looking through the auctions on eBay for Auction Watch, having a nice day, and then this happened. God damn it. Asshole of the Week.
The finalists for the 3rd Annual Designer Toy Awards were announced. Congratulations to the finalists, but I think it's an unforgiveable mistake for Universe of Violence not to be included, minimally, as a finalist. As I said in my UoV review – Universe of Violence was without question the best mini-figure line of the year.
I'm not going to completely rehash what I said before (my just read it, 2nd paragraph under the Subjective section), but any mini-figure collector should feel disappointed. Sure these awards aren't going to change the world, but they can have influence. I'd like to see mini-figures pushed in many different directions – not just collectible art figures and/or homages.
Maybe there needs to be a UofM mini-figure-centric award?
– "…i had these givern to me by a friend." Hehehe.
– You know what's "one-in-a-million?" Getting that price.
– Once again, I feel good that my buying days are behind me.
– Oh c'mon now.
– What is going on?!?!
– $8.99?!?!
What the fuck is going on? When did this become the norm for M.U.S.C.L.E. auctions?
I see more and more ridiculous single figure auctions popping up every day. There hasn't been a huge auction in months that could help to explain the insanity. And M.U.S.C.L.E. surely isn't on the cusp of a huge breakthrough (as much as I'd love that to happen).
Is the M.U.S.C.L.E. bottleneck finally here? At a minimum, we're on the precipice of an unhealthy auction price shift. I hope I am 100% wrong and people shove this mistake in my face for the rest of my life.
– Proof I'm wrong? (Of course, we need many, many more of these.)
– I might buy this lot because of the Warped #208. I've never seen a warp like that on #208.
– Poor, hand-less MUSCLEMANIA #21. Is it wrong that I'm a bit sad?
– How long will this joke continue?
– Wow, a lot with a figure I need! And there are two of them!!!
– Hahahahahaha…hahahahaha…
– $84.99 or $21.25 per 4-pack. The second way might sell. Might.
– I laugh at the price, then do a shameful scan for Non-Posters.
– If there is one thing I would overspend on, it's this – but it would still pain me.
– This seller is on crack. Pick your reason.
– Best offer? Id say $16, and that's being pretty generous.
– If you like Non-Poster figures, then this is a great deal.
– Again, a great deal in my mind.
– Yeah, but how tall are they?
– This picture reminds me of this.
– The most oddly specific M.U.S.C.L.E. auction ever?
– Want a great gift for a kid? Then buy this book. Its been cracking my kids up every night.
– Looks like I need to set $45 aside.
Honestly, it's probably even more money than that. I can't keep up with all the awesome stuff coming out. It could be a full-time job buying all the M.U.S.C.L.E.-centric custom figures out there today. Just look at some of the stuff that Niall has been highlighting on his website. It's like a holiday shopping list.
This is my Video of the Week. It just kind of made me laugh. I was going to say that it reminds me of my wife when she drinks, but I can't actually remember what that is like. So maybe it's how I imagine I remember.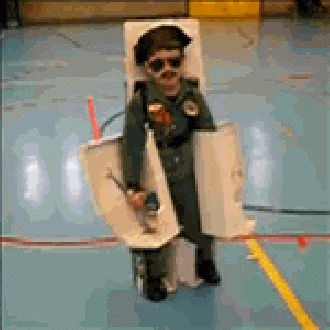 This was easily my Picture of the Week. Not because the kid is so cute, or funny, or anything like that. I need to build one of these. I don't have time to do it. I don't have the energy to do it. I probably don't even have the skills to do it.
But my boys would freak out.
Of course, if I keep trying to impress my boys now. How am I going to impress them when they are older? I can only assume it will be a lot of Facebook stalking and saying, "You should have seen how hot she was 40 years ago."
Jesus, it just dawned on me how bad that math was. I might be borderline retarded. Good thing I'm practicing now! "You should have seen how hot she was 20 years ago."
Speaking of hot ladies. I don't have one this week.