M.U.S.C.L.E. figures #16 and #71 (Neptune Man)
by Professor Terry
For those of you who collect Neptune Man, I'm sure you are aware of the different sculpts available and other toy lines. Today I'm going to focus on the two M.U.S.C.L.E. versions #16 and #71. Which figure is better?
First, let's examine the color selection available. M.U.S.C.L.E. figure #16 comes in six colors: (1) Purple; (2) Magenta; (3) Green; (4) Salmon; (5) Red; and (6) Dark Blue. M.U.S.C.L.E. figure #71 comes in five colors: (1) Light Blue; (2) Orange; (3) Salmon; (4) Red; and (5) Dark Blue. You could have a Neptune Man figure in all eight M.U.S.C.L.E. colors and three pairs of him in the same color – Red, Salmon, and Dark Blue. Sadly only M.U.S.C.L.E. figure #71 comes in my favorite M.U.S.C.L.E. color of Light Blue. However, I have to score a point to figure #16 for having the six different colors and nice selection of colors.
Second, let's examine collectability. Both figures were only available in 4- and 10-packs. Each of the figures has a single Class A figure. For these reasons collectability is scored a draw.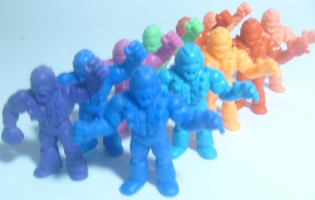 Next, let's look at the sculpt itself. M.U.S.C.L.E. figure #16 is in a pose with his fist pumped in the air and the second fist by his side (two fists). Figure #71 is in a classic one fist and one open hand to the side. Other than the arms the figures are identical. I like the fist in the air pose better as it shows some emotion, so another point is scored for figure #16.
Finally, let's look at the figures from a child's point of view. I'm scoring a point for figure #71 here because he would be easier to hold by his legs and easier to play with as if he is spinning and punching. Figure #16 doesn't have as much action. It looks like he's finished fighting and is celebrating his win.
For me, the final results are two points for figure #16 and one point for #71. I like #16 slightly better as he displays well and has more colors.
I would love to hear some thoughts on which you think is the better figure and why. Please vote in the upper right hand corner of the page and post your comments below.