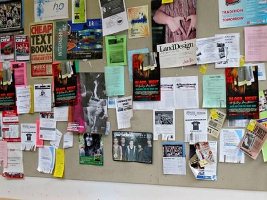 I can't believe the week I had. I'm even more surprised that there were posts everyday this week. The quality of this Epilogue will signify whether my week ended with a bang or a whimper – or somewhere in-between.
302 auctions as I did my scan. And this catalog was the first thing that jumped off the screen. It seems like these have always ended around $50. Too many other collectors want to add these to their collections. I've always liked having it, and looking through it, but I've never found a great way to display it. Or, more accurately, a way that really showcases the M.U.S.C.L.E. figures inside.
– 20 figures starting at $0.99.
– Serious question. How small can a lot be before $0.99 isn't a good price?
– I wouldn't pay $5, but those do look nearly mint.
– 45 Color figures starting at $0.99.
– 60 figures, starting at $0.50 per figure. I'd bet this doesn't get more than two bids.
– What's the story on these? I see a few I like.
– People could argue about the price, but do we all agree the shipping sucks?
– Finally, an auction for the person that keeps searching "Mask Horn Knight" on eBay.
– Big lot of 131, but they sure look dirty.
– There are two figures I would want in that crazy lot.
– $4.03 opening bid with a $6.10 BIN. Could this person be EEE #3?
– Can someone please explain this to me?
3,810 BIN listings.
– AOTW?
– Or is it this guy?
– Where have I seen this before?
– Basically $4 per MUSCLEMANIA to get 11 of the first 12. (Not a great deal in my book.)
– That is fucking ugly.
The last time I saw a Red #116 sell it was for $122.50 with three other Class A figures. Too bad I don't need it for the 4-pack archive.
Speaking of the 4-pack archive, while I was putting together this week's Auction Watch I stumbled across another new 4-pack color combination. It's not the best picture in the world, but I doubt the eBay seller was going to snap a better one for me.
The new LB, R, O, M combination has been added to the archives. This means that 50% of the possible combinations have been documented.
If you have any combinations that aren't in the archives, then please email the pictures to uofmuscle@gmail.com.
Even more important (arguably), if you have any of the critical 4-packs, then please email the pictures to uofmuscle@gmail.com. I would love to finally solve the combination count mystery.