It looks like the Sunday Paper is officially becoming a "thing." Cool.
Jesse sent in his second article and pictures to UofMUSCLE@gmail.com. He followed the vast majority of guidelines which kept things easy for me too. Thanks Jesse!
Remember the Sunday Paper is open to anybody. If you have a M.U.S.C.L.E. topic/question/rant that you want the world to see, then please feel free to send it in. I know M.U.S.C.L.E. collectors would love an extra day of content.
---
---
M.U.S.C.L.E. Market Analysis – April 2017 Edition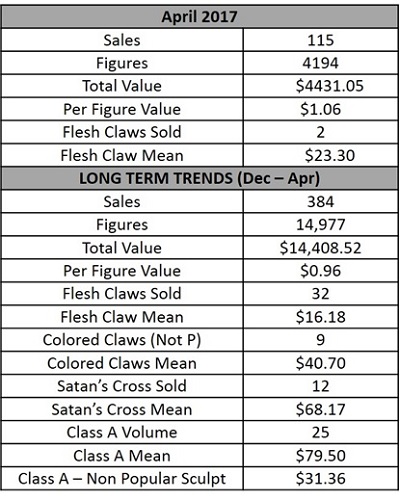 April saw a decent spike in M.U.S.C.L.E. sales over March and was the highest volume month since I started tracking last December. Over 100 sales were added to the database with a total value in excess of $4,000! Also, the monthly single figure mean was significantly higher than any previous month at $1.06.
However, the single figure mean values need to be considered in context. The dataset covers all types of sales from lots as small as two figure Buy-It-Now (BIN) lots to massive auctions of hundreds of figures. While small BIN sales are pretty common, they also tend to have significantly higher single figure values than large auction lots. For example, since December, sales of 100+ figures have resulted in an average per figure price of $0.88.
Even within these large auctions, prices are still slightly misleading as this includes both BIN and true auctions. If we remove the BIN sales and focus solely on large lots sold as auctions, we see a per figure value of $0.85 on average over the past five months. So if you are interested in picking up bulk figures on eBay, and are willing to buy big random lots, I would consider $0.85 per figure to be the current market average.
A few more flesh Claw and Satan's Cross sales have brought the 5 month averages to around $16 and $68 respectively, with colored non-purple Claws pulling in at a shade over $40. Run of the mill Class A figures are averaging $31.36.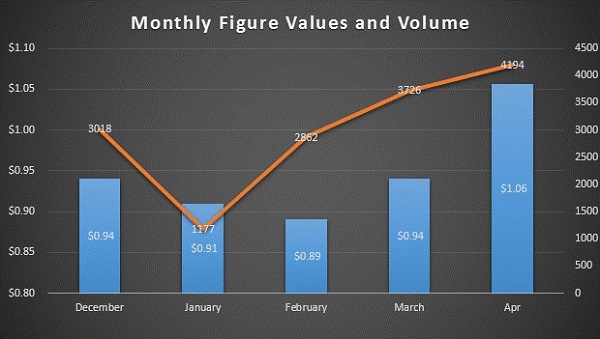 And that, my friends, is the current state of the M.U.S.C.L.E. market! As the dataset grows, I hope we can really start to put our collective fingers on realistic M.U.S.C.L.E. figure prices and trends, as well as gain a better understanding of the popularity of the M.U.S.C.L.E. collecting hobby. Long term price data should help us understand if the hobby is stable, growing, or shrinking. Until next month, happy M.U.S.C.L.E. hunting!


---
---
Thanks Jesse!
If you're feeling inspired, then please sent in your article and pictures to UofMUSCLE@gmail.com.