The Sunday Paper returns thanks to Jason Pratt. He sent his write-up to UofMUSCLE@gmail.com and, thankfully for me, he followed the guidelines. Thanks Jason!
Remember the Sunday Paper is open to anybody. If you have a M.U.S.C.L.E. topic/question/rant that you want the world to see, then please feel free to send it in. I know M.U.S.C.L.E. collectors would love an extra day of content.
---
---
Japan Rain East's Kinnikuman Event and the Kinkeshi Boom: Thoughts from a Local
Even though M.U.S.C.L.E. figures had only a short run, over the years, new Kinnikuman keshi figures have been released in Japan, as have a multitude of other products related to the characters. However, the current period of production has resulted in an unbelievable amount of new figures being released. I believe that this is related to two key anniversaries: the 40thanniversary of the creation of Kinnikuman and the 50thanniversary of the JUMP comic compellation magazine (observed in 2018). While it's my educated guess, I believe that the period may be in a slowdown. One clue is that there has been less availability over the past few months of the figures being produced and another is that some larger send-off style events are happening. Below I detail the largest of such events that I found and the sweet swag I picked up.
Forgive me if some of my terms are not real English and are instead Japanese-made fake English words. I am starting to forget the difference.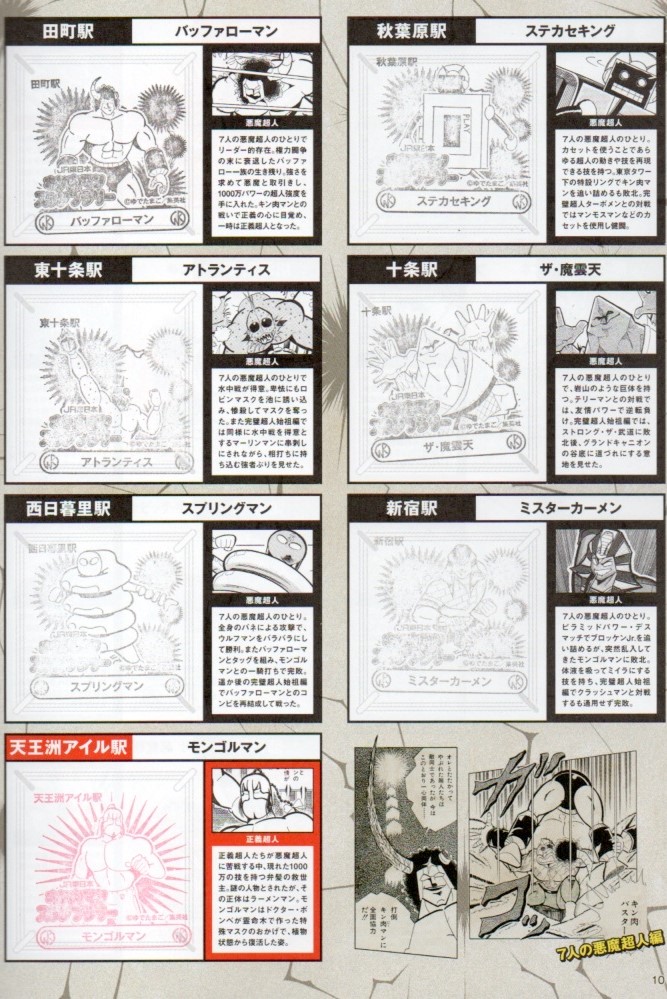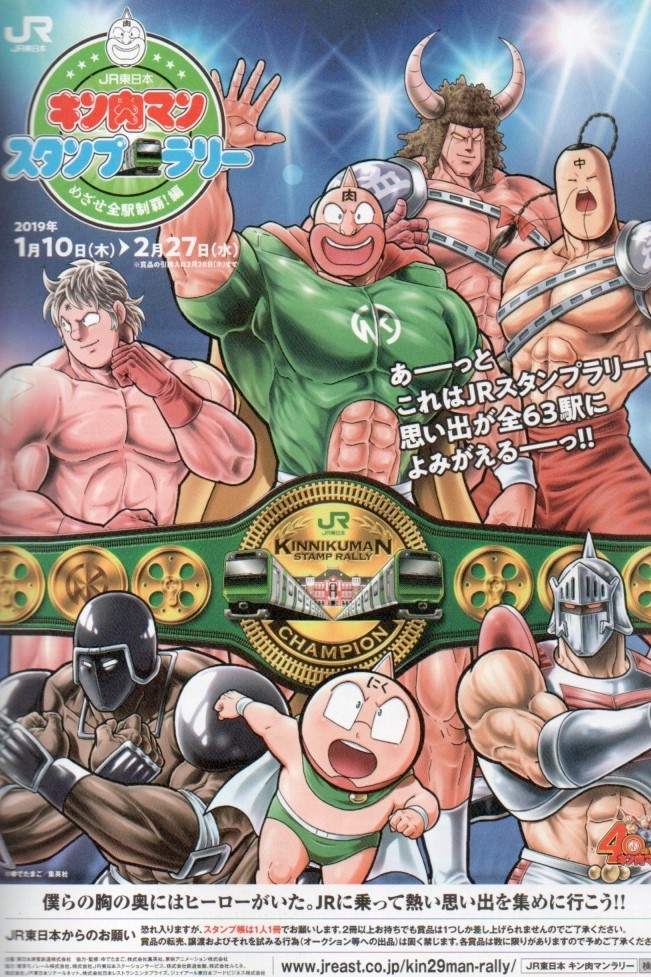 Between January 10thand February 27th, the Japan Rail East train company ran a stamp rally based around the Kinnikuman franchise. During this event, participants received an A4-size booklet in which to collect stamps. The stamps were located in 63 of JR's stations in the Tokyo region, particularly on the Yamanote Line, and each stamp featured a different character from the series. The booklet also showed a list of restaurants in the area that were offering special Kinnikuman dishes or snacks, such as Buffalo Man fried noodles.
Those who achieved stamp collection goals received rewards. Getting 7 stamps gave the person the chance to qualify to receive one of 6 special cards (purchase required). Getting the entire 63 stamps entitled the person to a special set of Kinnikuman figures. The figures are green and come in a special box commemorating the event. All four sculpts (Kinnikuman, Ashuraman, Robin Mask, and Terryman) have already been made available in other sets. Finally, there was a postcard insert within the booklet to send away for a chance to win a poster. It seems only 8 of us will win and I am crossing my fingers – otherwise, hey, I now have a cut-up book for nothing.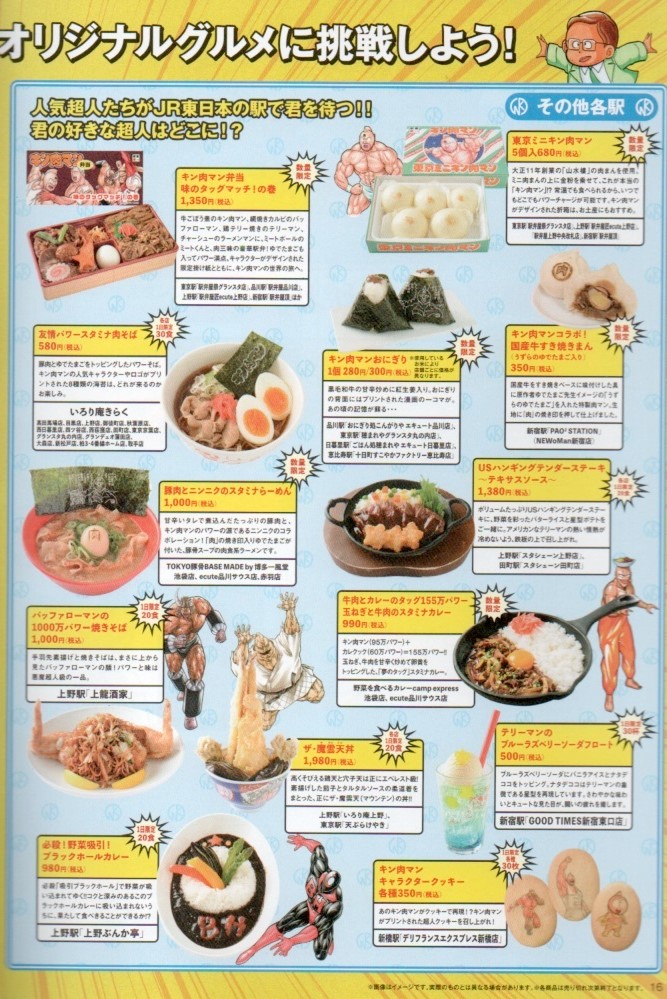 This is all just speculation, to be honest. However, despite the fact that Kinnikuman is doing well here, I – an obvious foreigner – wear a Kinnikuman symbol hat all over. None of my Japanese friends recognize it or profess to be fans of the series or toys. No local, in a city of millions, has ever called out to me about the hat, and they do call out about other things. I have also been here 20 years and noticed Kinnikuman campaigns all the time, but nothing on this scale. Thus, I am pretty sure that the last two years of Kinnikuman figure craziness is related to the two aforementioned anniversaries. In the case of Jump's 50thanniversary year, which was last year, Jump's Tokyo Dome shop was stocked with a lot of items related to the classic lines; since 2019 came, the classic lines, conspicuously including Kinnikuman, are less stocked and the current lines featured in their comics are much more common. In the case of the 40thanniversary of Kinnikuman, the JR East pamphlet for the stamp rally calls direct attention to this occasion. Thus, I think that we may have 9 more months of events (likely few if any more on this scale) and figures rolling out, but I would guess that after this year finishes, the pace at which new figures are released will return to status quo – a few new ones every few years and a lot of reprinting of old ones for campaigns for soft drinks and so on.
Anywho, those who want to get a set of these JR ones can likely do so on the Internet. It's a nice box.
---
---
Thanks again Jason!
If you're feeling inspired, then please sent in your article and pictures to UofMUSCLE@gmail.com.