M.U.S.C.L.E. Figure #22 (The Manriki)
by Professor Terry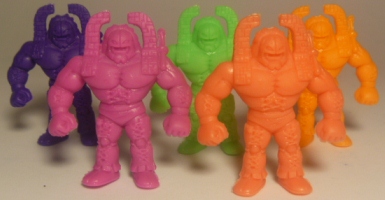 The focus of MMMM this week is M.U.S.C.L.E. figure #22 known in Kinnikuman as The Manriki. Although he wasn't my favorite figure as a child collector, The Manriki (or The Vice) was one of the very first figures I ever received – in fact I'm fairly certain he was in my first 4 pack.
What really gets my juices flowing about this figure however is the challenge to pick up a figure in each form he's available in – none are particularly easy to find! The Deka Kinkeshi was one of the last three I needed in the entire set (and I received him for free courtesy of LRG member Skullking, that warrants special mention).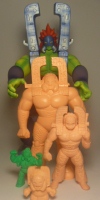 The Romando is fairly uncommon in the color scheme I chose – and I have to say looks very cool. It looks even better when he's purchased for only $19. The Great Kinkeshi isn't all that easy to locate either and the Kinkeshi and SD Kinkeshi are from later parts of their respective series. The best thing about this little Manriki collection is that I did piece it together rather cheaply – about $55 for all of it.
So is the Manriki just a boring sculpt that nobody really thinks much of? Or did I get lucky with the pieces I own? Personally, I rate The Manriki in the top 25 of all M.U.S.C.L.E. sculpts – the fact that there isn't a lot of different figures of The Manriki to collect adds to the mystique for me. It makes him feel like he's in an exclusive club of sorts – that those who collect him are dedicated.
Of course there is one more piece needed for my Manriki collection and that is the Class A M.U.S.C.L.E. in Dark Blue – it might be the toughest Manriki piece of all to find.