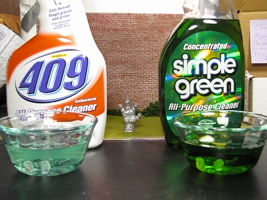 I have already talked about the Toys for Tots nightmare, which started almost exactly five years ago today.
Instead I will embarrassingly acknowledge another failure. My silver, boat paint Purple #153 figure. It does not even start with the Purple Claw Project – Prologue. It actually starts around this time SEVEN years ago.
I can't believe I haven't just stripped that thing with the Simple Green. It wouldn't actually take very long. But stupidly I want to document it. Why?
Would it be any different than this? Probably not.
I do know it would be better than this. Although I did enjoy re-watching that pot boil over. I felt like such a dummy when that happened.