Bobbleheads
by Professor Terry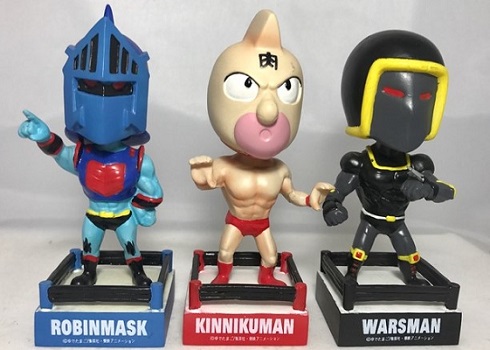 This week we have something a little different on MMMM – 4 inch tall Bobbleheads.
I picked up these three bobbleheads in one Japanese auction and believe they are a set as I haven't seen any before of since. I have a few different bobbleheads in my various collections and if you're a serious bobblehead collector, then as far as bobbleheads go, these are fairly poor. That's primarily because the are;
#1 extremely fragile – they're made of porcelain. Two of these suffered breakage on their way to me but a bit of superglue and they look like nothing has happened. However, 2 of the small bear claw fingers on Warsman weren't recoverable.
#2 because they're made of porcelain which is fairly heavy, the heads just wobble around rather than have a nice spring to them.
Now that the negatives are out of the way, there are some really positive qualities in these figures.
I really like how each is standing in a miniature ring with their name written in English (and I assume their name in Japanese) on the bottom.
The poses are pretty cool for each as well, I particularly like the Robin Mask, especially seeing him in his blue armor which is the only version of him I collect (see MMMM #20)
These 3 figures are arguably the 3 most popular figures in the Japanese market so the choices for the bobbleheads line was an easy one – I do however wish there were more made as a large lineup of these would look very nice! Of course that would be if I could get them shipped from Japan without them breaking into hundreds of tiny pieces.