Did you guys see this guy (diefenderferauctionco15) get his panties in a bunch last week? He's a big fan of satire. (I added a link to the definition. I'm not 100% sure that guy is familiar with the word. Don't worry. He can't see this part.)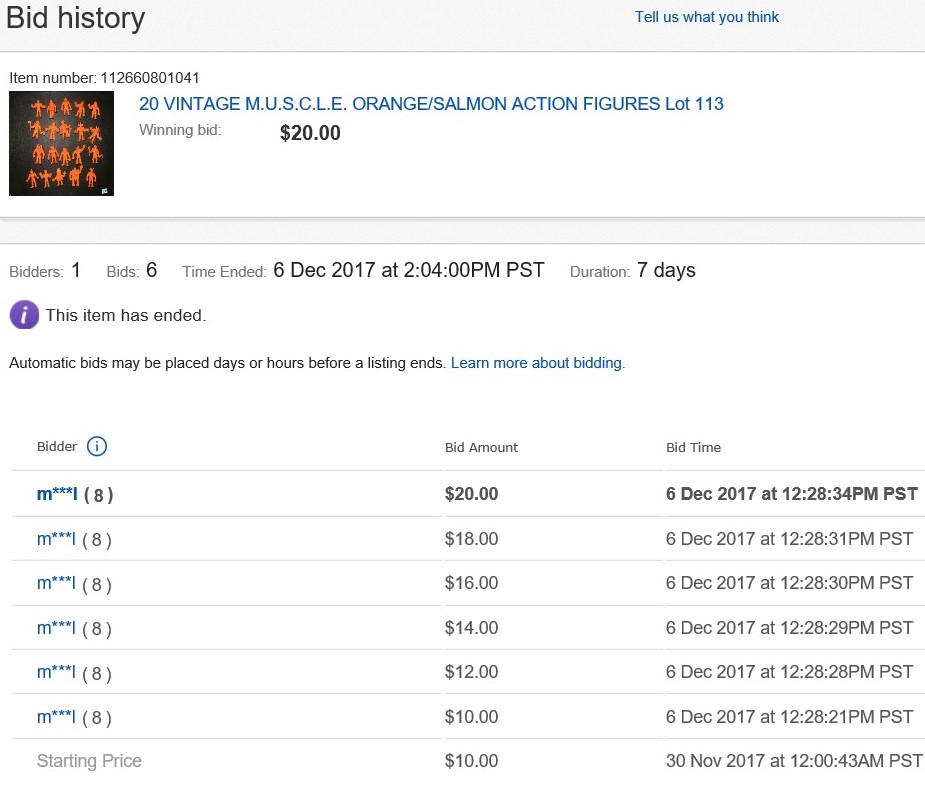 I was curious to see how his live M.U.S.C.L.E. auction would turn out. The last live auction did not turn out very well. His results were pretty underwhelming. It worked out to $0.77 per figure (I didn't include the single figure or #153 listings). That's $0.15 more per figure than an auction starting at $0.01. Wow. I guess I'm the fucking asshole. (Does the sarcasm come through think enough?)
Per-figure price aside, I have another eBay question. All of the M.U.S.C.L.E. listings from this seller had one bidder. It had one bidder and the price kept going up.
What the fuck?
Seriously, what am I looking at here? Six bids over 13 seconds; two hours before the end of the auction. WHAT?!?!
Is it as simple as one bidder wanting to spend $20 on each auction? I know as a bidder I always want a seller to get the maximum price. I always try to drive the price up on myself…on every auction I am bidding on…from one seller…when I could have got them from less.
– Gamma. He He. He should have gone the live auction route for an SC.
– "I take eBay very seriously…" I do not.
– Almost feel like I should bid on this as a throwback to my Army Building days.
– The poster is in rough shape, but not the worst big lot ever.
– Hahahahahaha…
– Have you considered a live auction?
– 10% off. 29 Flesh figures. Guess the price.
– My new campaign. All SC. All Live. All Nude. Wait, what?
– Why keep re-listing this? A live auction is the solution.
Damn. I wish I had more M.U.S.C.L.E. auctions I could make a live auction joke about, but there's just not enough listings to talk about. I get tired of pointing out shitty auctions. I wish there were more good ones to point out. Most of the listings just get quickly scanned and I move right past them.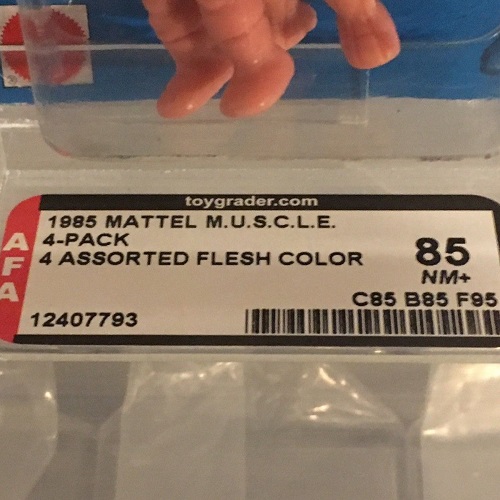 However, this auction stopped me in my tracks. Don't worry, it's not another rant about grading.
I was surprised pissed that the figures were only rated 95. If you don't know about AFA scales, then take a quick look.
M.U.S.C.L.E. figures are, arguably, the most resilient toys on earth. I would say Purple is the most prone to their own unique breakdown, but Flesh looks like it is still from 1985. Every carded M.U.S.C.L.E. figure I have still has the glossiness. I've had loose figures that still had it. How could you not rate M.U.S.C.L.E. figures 100?
I would argue these figures are, at least, 95 too. The card and bubble are shit, but those figures are nearly mint.
Speaking of the bubbles, those are pretty tough too. I haven't seen many that breakdown – unless the card is beat to hell. I think most M.U.S.C.L.E. bubbles (if the card isn't beat-up) should be 85 or higher.
I will admit that the blue can come off the 4-pack and stick to the figures. That could be a reason to not consider the figure a 100, but it's not an 85. Do you guys agree?
I skipped it last week, but damn of the torpedoes!
After weeks and weeks and weeks of not selling both Racers dropped their prices. This will be fun to continue watching for weeks and weeks and weeks.