M.U.S.C.L.E. figure #10
by Professor Terry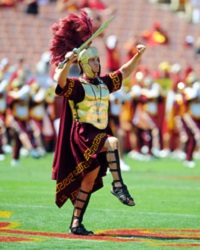 MMMM #80 is about the second figure supposedly from Hawaii – M.U.S.C.L.E. figure #10 (Jesse Maybia).
Unlike Prince Kamehame who was featured in MMMM #21, I didn't find any information linking Jesse Maybia to Hawaiian culture. In fact, I think Jesse Maybia is much more like the USC Trojans College Football mascot!
This is actually the reason I went and bought some extra Maybia figures as I follow Trojans football and the resemblance is certainly there – the Romando pictured looks like he's been in the Californian sun for some time.
I personally thought this figure was fairly ordinary until I made the USC connection. I haven't ever been a fan of Gladiators or Ben Hur-type movies and the figure itself doesn't seem to be included in many different Japanese lines.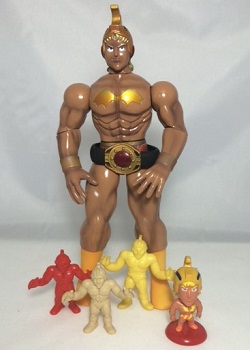 Let's talk a little more about the Romando, as it's the standout in the Jesse Maybia collection. He is the Hawaiian champion and comes packed with a Championship Belt. Unfortunately, it's quite a lame belt – certainly not on the level of a WWE Championship. The articulation on the figure is quite poor too.
I really don't understand the Romando line. Sometimes certain figures are fantastically well made and some are downright pathetic – yet they are made by the same company.
The fact the Romando is the best figure in my small collection of Jesse Maybia figures probably says enough about the figure. There isn't enough sample size to really enjoy it as a standalone collection but as it is a part of the M.U.S.C.L.E. set, that makes Jesse Maybia good enough for me.
And for those that are familiar with Trojans football – Fight On!!!!