last week's Epilogue
we finally have a grand champion:
retroactivefalloutbunker420
. His winning entry was trying to sell a $0.50 figure with a $25 BIN.
I figured Winner #1 and Winner #2 were likely to battle it out for supremacy. But I think a joke helped propel him to the win.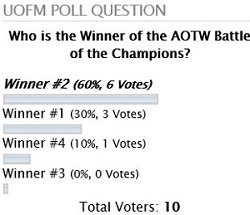 I am slightly embarrassed to admit how excited I am to see a Battle of the Champions. I'm so excited I want to dive right into our new Fatal Four-Way battle.
Last week there were four listings that were worthy of entry into the tournament. Unfortunately the fourth listing is no longer listed. So we have the three mentioned last week and one new entry.
Remember to cast your vote and crown this week's AOTW. Here are the four combatants:
| | | |
| --- | --- | --- |
| | vs. | |
– I don't know why, but it seems strange when people stack doubles.
– Years ago this would have been snapped up.
– "not picked thru, might be some gems in here." Nope.
– Can you believe he can't make it into the tournament?!?!
– What?
– Does the Epilgoue need to point out non-AOTW only? (It might be three listings, at best.)
– Here's a not terrible listing.
– I like the tag on the #70 figure.
– Seems like quite some time since a nice MUSCLEMANIA lot.
– Cool counterfeit lot.
– I hate people selling M.U.S.C.L.E. keychains with white hot intensity.
– What's a normal price for this figure?
– C'mon people.
– C'mon Canada – have figures I need.
– Worst strategy ever?
– Would you have paid $489.83? It's not a judgment. I'm seriously asking.
And now, possibly the saddest, weekly installment of "Damn the torpedoes!"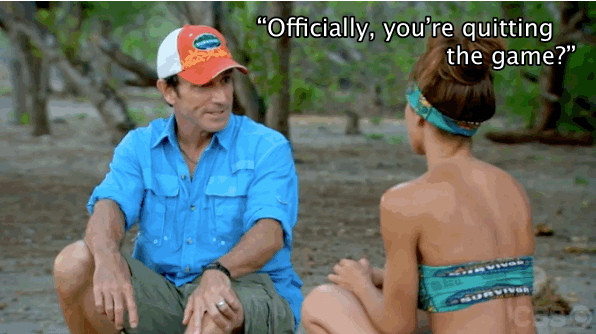 What has happened to our race?
First Racer #1 shaved $2.07 off his price, and now he's offering an extra 10% off with his sale price. Wow. After 1,016 days I have no idea what to expect next.
Racer #2, as of writing, seems to be quitting the race. After over 254 days I can't believe it. I tried to find a gif to best represent this sad and surprising ending.
After years of electing Assholes of the Week, several weeks of tournaments, and a Battle of the Champions in